Get Out of the Water, Get Out of the Way
Last year, the Shadow Ridge Swim season was cut short, along with all other spring sports, due to Covid-19, and were only able to compete in one meet. This year the swim team gets another shot and is able to compete for personal times in a four meet season. 
A lot has changed for swimmers in comparison to past years of swimming, even down to the style of meet that's being held. In past years, swimmers competed in dual meets where they swam against a team from another school and racked up points against each other based on the place they finished in. This year, however, the swims team is swimming only against themselves trying to better their times. The team is also unable to be in the pool every day which is very different from past years where they typically are in the pool 6 days a week including meets. To make up for the lack of pool time, every other day when the swimmers aren't able to have "wet" practice, they hold "dry land" practices and work out on the soccer field.
This year the team is also required to follow very strict covid safety rules, at practice swimmers are required to wear their masks at all times unless they are in the water and have to stay a minimum of 6 feet apart with temperature checks before every practice. At meets, swimmers are required to wear their masks up until seconds before they dive in and must put them back on as soon as they are done with their race. Swimmers are unable to congratulate the swimmers next to them with the customary handshake or high five after a race, and the cheering is limited to fellow swimmers as parents and spectators aren't permitted in the facility to cheer on swimmers and show their support.
These restrictions have had mixed reactions with swimmers. Swim caption, junior Lucas Ludwig, is against them and was "sad that the covid rules were pretty strict." Other swimmers, like junior Mikaela Berg and freshman Ellana Hollingshead, understand why the rules are there.
"I understand why they have some of the covid restrictions like taking our temperatures and wearing our masks on the deck are in place, but lots of the other restrictions didn't make sense and were unnecessary like not letting us high five our competitors at the end of the races," explained Hollingshead.
Only four teams are held to compete at meets this year instead of the normal eight and swim teams have cut down their sizes to accommodate for the changes in rules so the meets are moving at a much faster pace than they have in previous years with very little time in between events. Swimmers are having very little time to rest and warm up in between races.
"My least favorite part about the meet was how fast it was going and having to rush to my events," said Berg.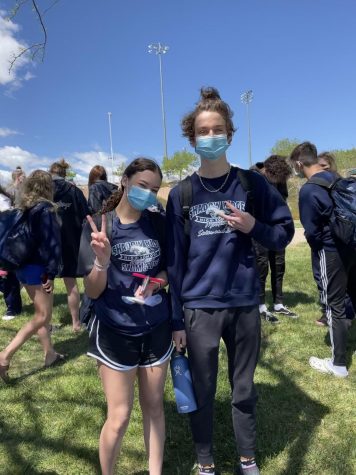 The freshman competing this year for the first time are unfortunately unable to experience a typical swim season and getting guidance from upperclassmen and coaches is much harder because of how much the rules have changed. Freshman Brooklyn Santos has had no experience with competitive swimming and was nervous for her first meet because she wasn't entirely sure what was going to happen but said she enjoyed her experience overall.
"My first meet was good and I had fun too," said Santos. "It was different than what I expected because I was hoping at least one person in my family could go. I was a little nervous at first not knowing what was going to happen, but after I was fine and I was excited to cheer everyone on."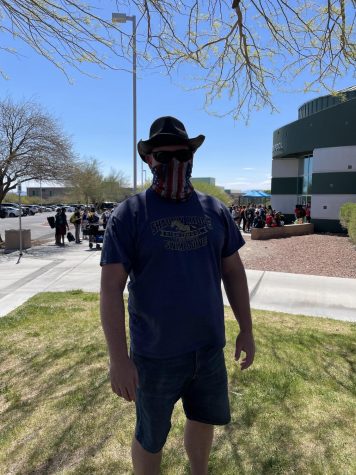 False starts, goggles falling off, missed races, miscounting, and losing a relay member are some of the problems that commonly occur during meets and are constant fears, especially for first-time swimmers. Some of these fears become reality. Freshman Tanner Hagen had his goggles fall off during a race. Coming into a meet with nerves is an easy way to make simple slip-ups as Coach Hillmer explained, when, as a freshman, he dove in without his goggles on. For Hollingshead, these nerves were very present, but she was able to have a great time and is excited to improve.
"I was nervous about messing up, like diving in the water at the wrong time or stopping when I wasn't supposed to by accident, but my first high school meet went good and it was more relaxed than I expected," Hollingshead said.
Shadow Ridge brings the best energy to the pool with their cheers being heard above everyone else and their sportsmanship is unmatched. No Shadow swimmer ever races without someone cheering them on and all swimmers can attest that the cheers help them swim faster (although they can't hear them underwater).
Senior Hannah Jimenez said, "My favorite part about the meet is how everyone is there supporting each other and cheering each other on."