The Fight to Form a Union at Amazon
Late last month, Amazon workers were a spotlight on the news due to the growing protests to form an Amazon union in America. Other Amazon companies overseas already have unions, but none have unions in the United States. This posed a problem to Amazon workers who wanted their voices heard to make changes to their working conditions.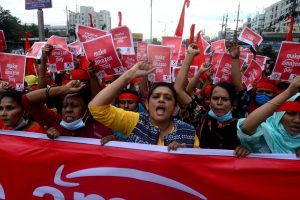 "In the US, Amazon has 800 facilities staffed by 950,000 full- and part-time workers – and it should be said many do not feel the need to join a union. And for those who do, this is not primarily a wage issue – in fact, Amazon pays workers an average of $15 an hour, plus benefits. But most agree conditions in its warehouses can be hard – the job is very demanding and lots of workers complain of back pain or other physical niggles as a result of working long hours, often standing in the same position. Others talk about the mental-health toll of repeated tasks or feeling like they are a cog in a very big machine that does not always listen to their problems. And there are a lot of things workers feel they do not have control of, such as shift patterns, time off, sick leave, and being fired. One of the most controversial features is time off task (TOT). When a worker is clocked in, Amazon's computer system calculates which hours of a shift are on or off task, based on whether or not an item is scanned. And some say they feel dehumanized by technology watching their every move," states BBC.com.
Along with the many physical and mental problems that Amazon workers face, Amazon employees who support the union have claimed that the company became aggressive in their efforts to stop employees from voting for the union. Anti-union tactics the employees claim have been used are the distribution of 'Vote No' pins, and texting workers the message 'the union can't promise you anything'. 
"Many employers fear that unions will cut into profits and impact companies' autonomy. Because the consequences for violating federal labor law are minor, McNicholas said, companies often believe it to be their best interest to do whatever it takes to prevent workers from unionizing," says BusinessInsider.com.
Although this may explain why big companies such as Amazon are so strongly opposed to unions, COVID-19 may also play a big part in the fight to unionize. 
"The company's net sales in 2020 increased by 38% – and it hired more than 500,000 additional staff. But behind the scenes, there has been huge pressure on warehouse staff to keep supplying the goods so many people in lockdown were ordering. Chris Smalls, one of a handful of employees to raise questions in the early days of the pandemic about how safe conditions in warehouses were, was sacked, with Amazon saying he had broken social-distancing rules. And in February, New York state's attorney general sued Amazon, claiming it failed to adequately protect its warehouse workers from Covid risks," states BBC.com.
So although there may be multiple reasons as to why Amazon workers want to unionize, if the union vote were to win, it would be an example for other workers of big companies that unionization is possible in order to get their voices heard for better working conditions.