Baylor Wins March Madness
As the basketball world's biggest tournament came to its final game, the floor was set, the stories were ready to be written. For the Gonzaga Bulldogs, they were hoping to complete their perfect season, going throughout the year without defeat, a perfect 31-0 year. Baylor was on the other side of the stick, trying not to be on the losing side of history, but creating their own, aiming for their first national championship. 
According to ESPN, Baylor head coach Scott Drew felt blessed and relieved to be at the top of the college basketball world. 
"First and foremost, I want to thank God for blessing us with this opportunity tonight, I know the guys have worked really hard. And I'm so happy they get a chance to celebrate now."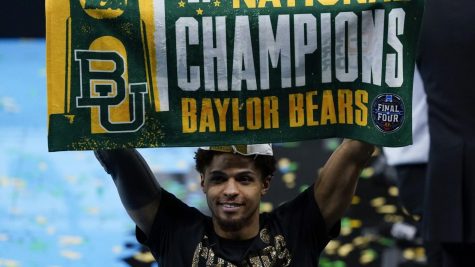 Drew went on to talk about the Bulldogs and their head coach, Mark Few
"At the same time, I feel for Coach Few and his team because they're such class acts. And Coach Few is a Hall of Fame coach and an unbelievable guy. A better person than he is a coach. And you hate when friends aren't feeling good."
Former Shadow Ridge student, now college student, Kimani Johnson, was thrilled to see his team triumph overall and finally win their first national championship. Baylor has appeared in the tournament 13 times, with a combined record of 19-14.
"Man, it brought tears to my eyes to finally see this team come out on top. And even though the roster is almost completely different by the year, it feels as if this team has been together forever and growing and building a championship team. I love coach Scott and the leadership he displays.
"
Baylor basketball is always fun to watch but it is way more fun when they are winning and doing so in fashion.
— Kimani Johnson
Both teams played great Monday night, but it was turnovers that spoiled the night for the undefeated Bulldogs., and the Baylor Bears definitely capitalized on those turnovers, converting 16 second chance points and shooting 44% from behind the arc. The final four games for each team was great in their own way, with Gonzaga winning on a buzzer-beating shot to put UCLA away from dazzling guard Jalen Suggs. Baylor just absolutely crushed Houston by nearly 20 points to head to the championship game. Baylor never trailed in the final game and started off blazing hot with a 23-8 lead. They never looked back, and held up the title with pride!