Global Food Prices on the Rise
As the ongoing pandemic continues, it has presented many new challenges that a lot of people didn't see coming, one of which is a rise in food prices. Along with a high death toll around the world, natural disasters, and an economic drop, problem after problem is piling up for those who are running out, or have already run out of money. With unemployment in the country at an all-time high, prices on gas, clothing, and food have all increased dramatically within the past couple of months. Although the increased prices may be an attempt to keep the economy afloat, for lower and middle class citizens, high prices just add on to the problems they're already facing.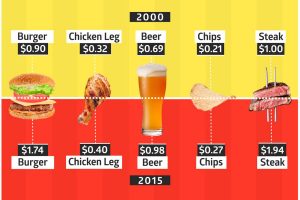 "A United Nations gauge of food prices has jumped 18% since May, as adverse weather, government measures to safeguard supplies and robust demand helped fuel rallies across agricultural commodities from grains to palm oil. Prices will likely climb further, the UN's Food & Agriculture Organization said. The spike threatens to push up broader inflation, making it harder for central banks to provide more stimulus to shore up economies while stirring memories of food-price crises a decade ago. It's bad news for consumers whose incomes have been hurt by the Covid-19 crisis, and adds to concerns about global food security that's being affected by conflicts and weather shocks," says Bloomberg.
This problem is even more difficult for poorer countries that were already struggling to get what they needed before the pandemic. Now, the problem has increased and continues to rise daily. When the pandemic hit, hundreds of countries closed their borders for long periods of time, which also meant that a lot of trading was restricted, or stopped altogether. Due to this, poor countries and poor citizens in America have been the hardest hit by rising food prices.
"Pandemic-related production roadblocks also are contributing to rising prices for food and oil. Agricultural production is dependent on weather, and climate change has contributed to more extreme storms and changing weather patterns that impact planting timelines and crop yields. Food production in the U.S. also relies on a highly mobile army of laborers, whose low pay and crowded working conditions make them uniquely vulnerable to Covid-19 — a combination of circumstances that have crimped production and raised costs for food producers…" states NBCNews.
However, the COVID-19 pandemic isn't the only reason why food prices are continuing to rise. Recent increases in extreme weather throughout the world and increased demand for certain food products and oil are both reasons why food prices needed to rise.
"If you think of under-resourced, low-income communities who are reliant on smaller stores, those prices only go up from there. The costs are always passed on because those smaller stores don't have economies of scale," says NBCNews.