Put the Nets Back Up
As everybody knows, last school year came to an abrupt halt due to the coronavirus pandemic, which unfortunately resulted in the shutdown of, not only in-person school, but all of the spring sports. The lockdown continued into this year but it seems that, right on time, the school system has opened up enough to make spring sports available for this year. This includes sports such as track and field, baseball and softball, men's golf, swim and dive, and men's volleyball. Those who are part of the Shadow Ridge Men's Volleyball Program are extremely excited that many of their players from last year who missed out on their season will get a second chance this year. Tryouts will be on April 5th to decide who gets to participate in this shortened men's season and, although COVID will still leave some restrictions on the team and their games, it'll be a great experience for these players to serve up some wins.
"
I am excited to have sports back and especially excited that spring sports, including volleyball, are happening."
— Coach Wilson
Coach Luke Wilson, the head coach of the varsity team, is happy to reunite with some of his old players along with some new ones and has high expectations for a fun and successful season of the sport he loves.
Wilson stated, "I know everyone is bummed about fall and winter sports, but those sports got their full seasons last year and spring sports didn't get their season. I know my boys are stoked to be having our season and being able to compete. I get especially excited to see any new freshman who walks in our gym. I hope to have lots of new freshmen who want to try out for volleyball this season!"
Fans will likely not be allowed to come to games this season, but there will be a freshmen, JV, and varsity team, so tons of athletes will have opportunities to play volleyball and have a good time.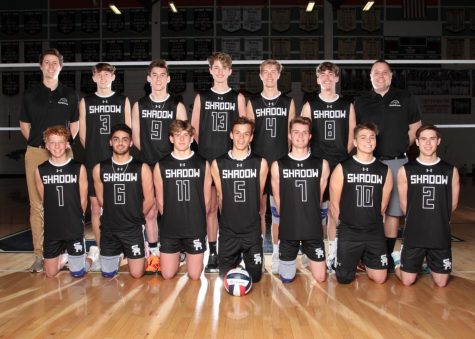 "For this season in particular I am super thrilled, as I have a good group coming back. I have eight out of my twelve varsity-level athletes returning this year and four of them will likely be going into their third year on varsity.  We will have to see how tryouts go for the remaining spots on the team, but we have a good foundation built for the season," Wilson shared.
The athletes are also very glad to return to the court and begin intramurals these next few weeks leading into the tryouts.
Sam Nish, senior, explained, "I'm excited to go play in the gym again," and Jackson Justice, senior, added, "I'm excited to get to play with my teammates again."