Students Encouraged to Take Forensic Science
Shadow Ridge offers many elective classes for students to choose from and Forensic Science is one of them. Taught by Mr. Stahlke, who has been teaching it for 9 years, Forensic Science encourages students to have an open mind and step out of their comfort zone!
Forensic Science is the study of science and law. In the class, students learn how to be a forensic scientist who collects, preserves, and analyzes scientific evidence during the course of an investigation. With all hands-on activities, students will learn things like how to document crime scenes, work in the crime lab and lastly learn all the specialties like forensic anthropology, entomology, and death investigation.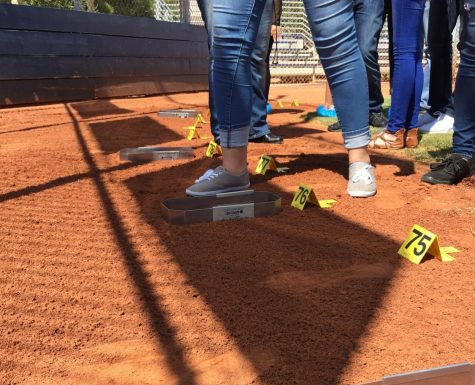 There are 3 levels of this class and all the activities listed differentiate based on the level of class a student is in. Getting to do things like collect evidence from crime scenes, take pictures, map everything out, learn how to take fingerprints, and how to tell certain things based on something like blood splatter are all things that students get to look forward to when signing up for this elective.
This class teaches students more than just forensic science, it teaches them responsibility, how to be accountable, the employment of soft skills, and also makes students feel like they are a part of something like a team.
Stahlke states, "Embedded in the content I teach the things that will make you a successful adult and lifelong learner."
Having many students over the past 9 years, Stahlke has yet to have any who have actually gone into the field of forensic science but he mentions how "the last two graduating classes had some very motivated and dedicated students who have the ambitions to go that route."
Stahlke loves teaching Forensic Science and has high hopes that his students could use these skills in their future career choices.
He says, "I get to teach students for three years (and in some cases four years if they take Advanced Studies). I get to build a program that they feel a part of and are proud to be part of it."
Students thinking about taking Forensic Science but who are concerned that it may be too difficult are encouraged to take the class anyway. Stahlke advises not to stress, come in with an open mind and take it as an experience.
"You will never know if this is something for you unless you try," advises Stahlke.