Carson Wentz Traded to Colts
After causing heavy controversy by drafting quarterback Jalen Hurts in the last year's NFL draft, the Philadelphia Eagles have made the long-awaited move of trading former MVP candidate quarterback Carson Wentz to the Indianapolis Colts. Wentz was selected number 2 overall in the 2016 draft. There were high expectations put on Wentz's shoulders from the jump, and it seemed like he was the franchise guy the Eagles so desperately needed. In 2017, Wentz put up MVP caliber numbers but went down to an ACL injury late in the season. Although he did not finish the season, he put the Eagles in prime position to have a very deep playoff run, and the team went on to win the Super Bowl, defeating Tom Brady and the Patriots under backup quarterback Nick Foles.
"
For the amount that we gave up, which is not a lot, compared to the amount of rewards we get from this trade, I am nothing but happy with this and this is a win for our team in my eyes."
— Dion Washington
After his ACL injury, Wentz just never seemed to put up numbers that were up to par with his MVP year, and constant injuries played a major role in his performance decline. The Eagles' Super Bowl year really was their one chance to win Lombardi glory, and they seized on that opportunity. Poor offensive line play has done nothing but add insult to injury, literally, when it came to Wentz. In 2019, Wentz led the team to a wild card playoff spot with a shorthanded receiving core and running backs. He played under 5 plays in that game, going down with a severe back injury that caused him to miss the remainder of the game. This played a huge role in the team rolling with Jalen Hurts, and benched Wentz for the rookie with around four games left in the season. Hurts did not disappoint, showing flashes of greatness reminiscent of his college days.
The Colts and their fans are having mixed emotions about the trade, as they are in need of a franchise quarterback but are not sure if Wentz is going to be their guy.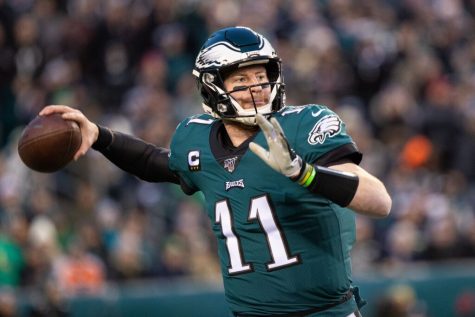 Dion Washington, senior, and lifelong Colts fan, stated, "If we just traded for 2017 Carson, then I think we just got a steal and are in contention to come out of the AFC and compete for championships, but if we traded for injury, mistake prone Carson, then we will be looking to move on from him sooner rather than later. I think the luck is going to swing in favor of 2017 Carson, and I think my team is going to be one to reckon with for years to come. He has too much potential for it to be washed away after a couple of down years. We have the offensive line, we have the defense, and we have the weapons, all we need is that gunslinger who is going to not only put the game away, but win it down in crunch time, and I am confident that is who we just acquired."
Carson Wentz going to the Indianapolis Colts was a trade made for a 2021 third-round draft pick and a conditional 2022 second-round pick that could turn into a first-rounder. The conditional second round pick turns into a first if Wentz plays 70% of the team's snaps.