CCSD Plans to Reopen School and Sports
Wednesday 24th, CCSD Superintendent, Dr. Jesus F. Jara announced the CCSD plans to bring students back to schools using a hybrid model and have sports and other extracurricular activities up and running. Jara introduced a timeline that will bring students and educators back in classrooms in sections starting March 1st. This announcement comes just one day after Shadow Ridge juniors were welcomed on campus to take the ACT.
All students have the option of staying home and continuing distance learning or returning to campus for in-person instruction. The students will be split into three cohorts under the Hybrid Instructional Model. Cohort A will go to schools on Mondays and Tuesdays for in-person learning while Cohort B remains at home for distance learning, and on Thursdays and Fridays Cohort B will be in school while Cohort A does distance learning. Cohort C will be the students that do all distance learning and all high school students will have independent study on Wednesdays.
"Students in Cohorts A and B receive learning opportunities that incorporate both face-to-face instruction at the school in the classroom and distance education at home through synchronous and asynchronous instruction. Students in Cohort C engage in full-time distance education all days and receive learning opportunities that include distance education at home through synchronous and asynchronous instruction," states the CCSD website.
Freshmen and seniors will be the first to return to the Shadow Ridge campus on March 22th followed by sophomores and juniors on April 6th.  According to 8 News Now, this was done so that the freshman, who have yet to be on campus can adjust before the rest of the students get there.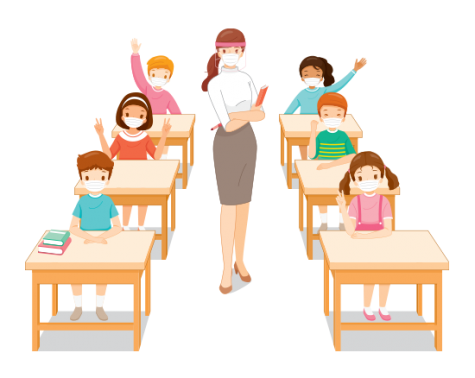 "You look at our sixth graders that have not been in a school, in their middle schools all year, and our high school ninth-graders, as well. It was an opportunity for us to get our kids in for a week to transition into our middle schools and high schools before our upperclassmen show up," Superintendent Jara stated.
All students and teachers on campus will be required to wear masks and stay a minimum of six feet apart as stated in the Health and Safety section of CCSD's reopening plan. All desks will remain 6 feet apart and sanitized in between uses, high contact areas will be sanitized multiple times throughout the day, and thorough disinfecting will take place at night by the custodial crew.
The CCSD website states, "In an effort to maintain a safe and clean learning environment for students and staff, under the direction of head custodians/building managers, custodial personnel shall perform…disinfectant light duty activities in each classroom and common area throughout the facility daily."
Athletics are also scheduled to make their return with practice for spring sports starting April 3rd, Spring sports include men and women's track, men and women's swimming, baseball, softball, men's golf, and men's volleyball. Some fall sports are also scheduled to return starting with football intramurals starting April 5th. Other fall sports including men and women's tennis, men and women's soccer, men and women's cross country, and women's volleyball, start May 3rd. Crowds are unable to watch any CCSD sporting events according to the Athletics section of the reopening plans.
"Under the plan, no spectators will be allowed at any CCSD athletics events," Explains 8 News Now. "The athletics programs will have to follow all guidelines from CCSD, the state, CDC, and the Nevada Interscholastic Activities Association. In addition, all coaches and adults associated with the team will have to test negative prior to activities."