SRHS Gushes Over New Water Fountain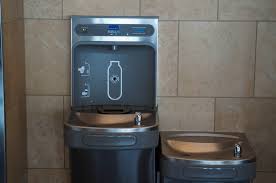 Many students at Shadow Ridge don't know about a new drinking fountain that was installed this year in the gym and was donated by the class of 2019.
The class of 2019 researched "bi-level" purified drinking fountains which could be used to fill hydro flasks that students bring from home. They hoped that this would help eliminate plastic waste that often comes with individual water bottles the students commonly bring to school, as well as offer a filtered option of public water.
Mr. Aaron Olson, the athletic administrator, says, "A lot of students are sneaking out to the gym just to get water from the fountain."
The students describe the temperature of the water as icy-cold and they say they can't wait to get water from it numerous times a day. The new drinking fountain is a great way for students to quench their thirst. 
"The water is an over the top, fantastic, ice-melting type of water," senior, Jack Oxtal stated. 
Dr. Edward San Nicolas, the assistant principal says, "The water fountain is brand new since it was installed during the summer of 2019 and it is similar to the water system in the airport."
The filter on the fountain is good for 3,000 gallons of water before it needs to be replaced. Generally speaking, fountains in high traffic areas need to replace the filter every 6 months vs. fountains in low traffic areas where filters need to be replaced every year. There is a red light on the fountain that will indicate when the filter needs to be replaced.
 Sophomore Alan Mitchell said, "It was nice and cool water to drink that can satisfy you."
There's always a time where students need refreshingly cold water and one water fountain in the gym foyer can provide it to them. Mr. Olson, Dr. San Nicolas, and Ms. Shipp highly recommend this purified drinking water to the SRHS students because there are some benefits to it. First, it can reduce waste which results in less plastic water bottles in the trash. Second, students can refill their hydro flasks with a better taste of water. Lastly, it can attract people to drink water which is healthier than going to a vending machine and getting a soda.