Senior, Kelsey Goddard, signs with University of Montana Western for Volleyball
Video Courtesy of: Kelsey Goddard
Oh, how the scholarships are pouring in for Shadow Ridge athletes. Senior, and varsity volleyball athlete, Kelsey Goddard has signed to the University of Montana Western. Congratulations are in order for Goddard, as she has a golden opportunity to continue on her path to pursue playing the sport she loves. With all fall sports being cancelled for the 2020-2021 school year due to COVID, Goddard has played her final high school game of her short ended high school career, washing away the team's hopes of going out on top this season.
"The varsity volleyball team's biggest goal was to win state this year and we aren't going to get the chance to do that. But if I had known that this last season was going to be our final one, I would have definitely pushed my team a little harder to fight more for a state win. Looking back I would have personally played from the heart because I would have known that it was going to be the last time I would be playing for the amazing Shadow Ridge volleyball program. It saddens me deeply to leave The Ridge but I am grateful for this opportunity to carry on my volleyball career and move forward with my life."
Playing volleyball in college has been a lifelong dream for Goddard, and she is more than stoked to have the chance to live this dream out. On and off the court, Goddard has had her fair share of motivators that helped her get to where she is today.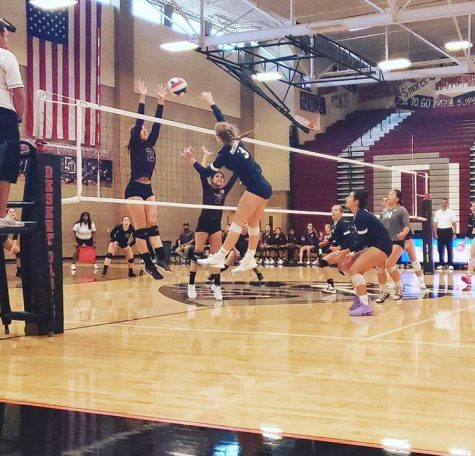 "Off the court, the people who kept me in the right mindset throughout the season would be my sisters because they both have been through the high school season process and know that it can be overwhelming at times, but they always remind me to have fun and make the most of it. But on the court, definitely my teammates and best friends. I love the Shadow Ridge volleyball program because everybody wants the best out of everybody else and we push each other to become better every day. Creating that bond automatically makes them your best friends."
Goddard went through her own trials and tribulations to get to where she is today, and knows in her heart that anybody who puts their mind, heart, and soul, into their dreams, can be in the same position that she is in.
"I sure do hope that I am giving hope to current and upcoming players and I try my best to! In these uncertain times, I am very lucky that I have received a scholarship to go play in college but I also had to work hard to make that happen. If I were to give one piece of advice to young athletes it would be to not waste a single minute, and that sounds so lame but you won't know until you've reached the end and looking back wishing you had done more. I would also tell them to not be scared. Nerves come and go and can lessen your play. I wish that I wasn't so scared going into each match and I wish that I just played from the heart each and every day. For the athletes going on to the next level, a big lesson I had to learn was that it doesn't matter what level you go to play at after high school. Whether it is the biggest and best D1 school in the world or the smallest town community college, being able to play, is an accomplishment in itself!"