Imaginative Writing
English has always been hugely important in school, but what many people don't see is the other side of writing. Imaginative Writing is an elective class where students get to use their creativity to work on many different interesting pieces such as short stories, scenes, and poems. In Imaginative Writing, there's a lot more freedom from the constraints of other forms of writing. For example, rather than being structured around how well a student can write a report on a book, the class is structured more around if students can learn to use their creativity and improve their imagination through writing. The class also provides a place for students who already write with an avid imagination to share their work with others and receive positive feedback. Imaginative Writing challenges students to go out of their comfort zone and try a wide variety of fun different genres. Mr. Flynn, who teaches Imaginative Writing, along with English 10 Honors, works very hard to develop his own personal creative writing along with the students and does all of the assignments along with them.
Although the class has had to adapt due to COVID, many students still enjoy Imaginative Writing and love participating as young writers. All the students bring a new and different perspective to the class along with interesting new stories.
Flynn explained, "I really believe that everyone is creative and Imaginative Writing is a class that encourages students to explore their own creativity. Everyone has stories to tell. This class gives students the chance to find their voice and tell those stories," and added, "I love the creativity the students have and it's really cool to see how each student improves over the course of the year. I've heard some really imaginative stories and poems that show some serious talent, and I like being a part of that."
Many students really found enjoyment in taking a nicer and more relaxed class with a lot of freedom where it's easy to express yourself.
Fisher Corwin, a junior who was in Imaginative Writing last year, reported, "I liked the freedom to write about basically whatever you want."
Although Flynn and his students get to enjoy the class and have a lot of fun, there are some difficulties that present themselves.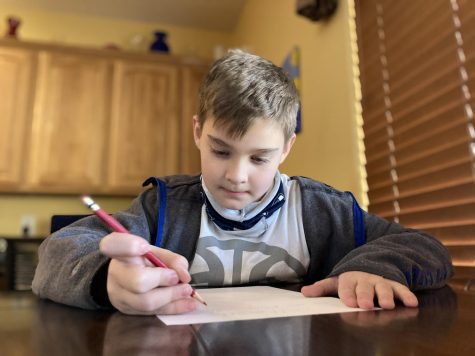 "One challenge is encouraging students to share their writing with the class. It's always tough at first because new writers are really hesitant to share. But once they start, it's tough to stop. I've had many students who were afraid to share at the beginning of the school year, but by the time the end of the school year comes, they're sharing every chance they get. Another challenge can be getting students to push the boundaries of what they are comfortable writing. It's important to try writing in different genres and for different audiences. Getting students to venture into unfamiliar territory can be difficult," Flynn shared.
After years of teaching the class, Flynn has Imaginative Writing all figured out, but he still gets fun and interesting surprises all the time because of the variety of people who get to enjoy the Imaginative Writing class.
"Writing can be pretty therapeutic and spending an entire class writing creatively and sharing stories and ideas can be a nice break from the more stressful classes of the day. This type of class gives the students the chance to tap into their more creative side that doesn't always get a lot of exercise in high school. Plus it's fun spending an entire period just making stuff up."