The Backbone of the Ridge
The most interesting and fun elective of all time, Journalism, is a great opportunity for students to get valuable experience and work on The Lariat newspaper, the backbone of Shadow Ridge. It's a great program for students who are going into any kind of communications or journalism career because it can help people write in the straightforward journalistic style needed for many different future professions. Journalism Foundations starts off by introducing students to writing newspaper articles in an unbiased way and then gradually incorporates the new journalists' into The Lariat staff. Students brainstorm and decide on ideas to write articles about and then often interview other students and take pictures to help add to their article. In Journalism II, students become more involved, responsible, and self-sustaining in their work. Since The Lariat is now online, Journalism II not only writes articles for The Lariat, but also manages and takes care of the website, along with the help of Mrs. Smith, the Journalism teacher.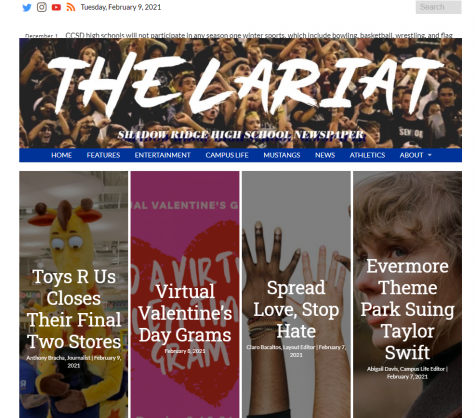 Smith, who has been teaching journalism and running The Lariat along with her various editors for 15 years now, has had to adapt and change her ways during this past year. With COVID, Smith wound up putting The Lariat online after years of printing and handing out physical copies of the newspaper. Although there can't be physical copies, the newspaper is now timelier and more loaded with stories than ever before.
Smith explained, "I love teaching journalism because it allows me to interact with the students in a nontraditional classroom setting; I get to know the kids a lot better and I can really see them grow as writers."
"
Being part of journalism really is the best part of my high school life here in Las Vegas."
— Claro Bacaltos
Journalism has grown to become an important part of many students' lives and teachess valuable skills. Abigail Davis, junior and the official Campus Life Editor of The Lariat, took journalism her sophomore year and is continuing on in Journalism II this year.
Davis reported, "Journalism lets students write about what's important to them and their peers. It's been helpful to me in improving my writing skills and encouraging me to talk to other students about what they're passionate about. Because of the switch to digital journalism this year, I've been able to learn more about websites and formatting as well as editing."
Claro Bacaltos, senior and the Layout Editor, works hard day and night to keep the website running smoothly and balance all the needs of The Lariat.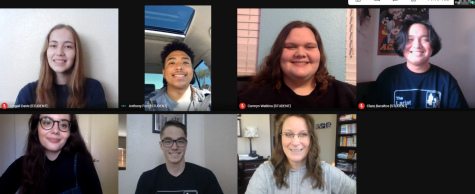 Bacaltos shared, "My journalism experience has been fantastic and I am very grateful to be a part of this class. I enjoy being on 24/7 stand-by with the site and being in charge of editing photos and the layout."
Smith added, "I think students should take journalism because not only does it improve their writing skills, it allows students to interact with their peers and school community as a whole. Students build journalistic resumes that will be available for scholarships, colleges, or future employers at the click of a button. Students are also responsible for producing something the entire school can enjoy. I'm so proud of what my students accomplish and I hope they feel a sense of pride too."