Ethel M Lights of Love
The Ethel M Chocolate Factory has become well known by Nevadans not only as a place for delicious chocolate but also for its wondrous light display during Christmas time. Boasting the largest botanical cactus garden in Nevada, Ethel M not only decorates its garden for the Christmas season, but also for Valentine's Day. From January 30th to February 14th, Ethel M hosts "Lights of Love" where the lights are lit up nightly from 5 P.M. until 10 P.M.
Similar to their Christmas lights display, Ethel M's "Lights of Love" covers the "three-acre cactus garden with half a million lights twinkling, romantic lights," according to Ethel M's website. This time, however, the color scheme coordinates with a more Valentine's theme of red, purple, white, and pink LED lights. Gone are the Christmas decorations of inflatable Santas and reindeer, which are replaced with hearts and Cupids.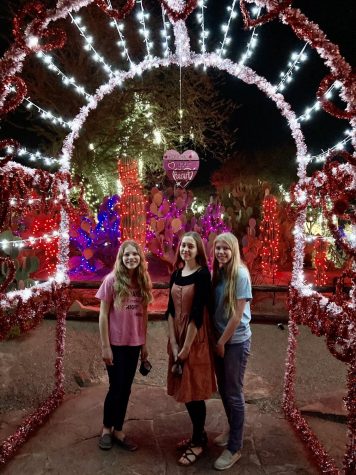 Melissa Wilson, senior, says, "It was fun to wind our way through tons of really pretty lights. At the end, we got to go through the factory and the shop, and we got delicious free chocolate!"
This is Ethel M's seventh annual time hosting "Lights of Love." Visitors are able to stroll the lit up and decorated cactus garden with friends and family and take pictures. They also have an opportunity to get a free sample of chocolate and see the machines and workers that work hard to make this delicious chocolate. The Ethel M Chocolate Factory has a store to purchase souvenirs, sweets, and obviously chocolate, as well as an in-store or virtual tasting experience.
Adhering to COVID guidelines, Ethel M has encouraged visitors to book a reservation in order to keep better control of the numbers and social distancing procedures. Currently, the reservations are fully booked; however, walk-ins are welcome, but entry is not guaranteed. Five to fifteen minute wait times for walk-ins are dependent on capacity limits. Additionally, a reservation with a non-refundable $5 donation to Three Square Food Bank is required for entry. Masks must be worn in the garden and in the store. Groups walk around six feet apart from each other with a one-way path to follow, as well as, markers on the trail to show the distances required between groups. This might seem like a hassle to have to wait sometimes for the group in front to finish taking pictures, but Ethel M is just following COVID procedures and doing their best to protect their guests.
"They were very good about social distancing and precautions. They took temperatures before, limited the size of groups, made sure everyone was spaced out enough without any long wait times, and required masks of course," Wilson states.
"Lights of Love" seems to attract fewer visitors than the Christmas lights display, which means that it is less busy and easier to walk in. For people who didn't get the opportunity to see the Christmas cactus garden lights, Ethel M's "Lights of Love" is a great chance to still see the beautiful display of lights and spend time with loved ones.