All About Anatomy and Physiology
With registration for the next year coming up, Shadow Ridge students will soon have the opportunity to meet with their counselors to discuss their schedules for the 2021-2022 school year. Students have to make some tough choices about the classes they want for their core classes and electives. 
One of the hardest choices to make is figuring out which science is right for them. Ms. Kuhlman would love for students to consider her class Anatomy and Physiology. Anatomy and Physiology provides students with information about the human body and preps students with critical thinking.
"This class would greatly prepare any student interested in entering the medical field in any capacity," Ms. Kuhlman explains. "Having a strong foundation in anatomy and physiology going into college will put you at a great advantage. This class also challenges you to think critically and solve problems, which are amazing skills for any career."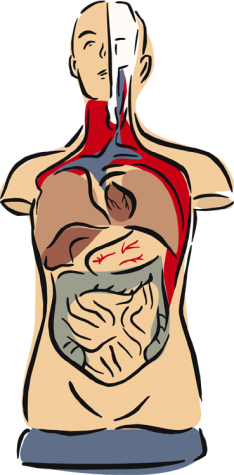 Anatomy and Physiology is heavily based on medical studies and that is what a lot of the assignments consist of. Students are given the chance to look at real-life situations and find the problems and solutions based on the information they learn in class.
"Much of this class is based on medical case studies, so students are presented with a patient, and they must diagnose the patient based on symptoms," Ms. Kuhlman tells. "Then they have to determine an appropriate treatment plan for that patient. We also usually do various dissections, including a large specimen dissection (a fetal pig) at the end of the year."
For students who are interested in anything pertaining to the medical field, this class is a must. Junior Hailey Morrow chose to take Anatomy and Physiology this year because of her interest in medical careers.
"I decided to take Anatomy & Physiology this year because I wanted to be challenged and expand my knowledge on something that I will have for the rest of my life… the human body!" Morrow states. "I also want to go into the medical field later in life, so I thought that this would be a great opportunity to learn."
Junior Trent Smith, who is also enrolled in Anatomy and Physiology this year, took the class because he wanted to connect more with his parents who are both in the medical field. He found this class was the best way to do just that.
"
My parents are nurses and I have always been interested in following in their footsteps. So I figured, why not follow in their footsteps by taking an anatomy course that my high school offered! I also wanted to learn more about the body in general!
— Trent Smith
Smith enjoys the class not just because of the content they cover but also because of the joyful energy Ms. Kuhlman brings to the class. 
"I definitely enjoy Ms. Kuhlman and her positive attitude when she comes to class every single day," says Smith, "She always finds a way to smile and make the day very bright and full of glee."
A regular day in Anatomy and Physiology starts off with a warm-question, then students will learn and discuss new material, students then work on a worksheet or activity and then are often out into breakout rooms to do a case study or discussion.
Students in Anatomy and Physiology are always working with other students doing collaborative assignments. Usually, all of the work students have to do is done during class time, and the only thing students have for homework is what wasn't finished in class.
"Usually our workload is pretty easy-going! It's not too much, and it's the perfect amount you need to learn the material. We have weekly assignments that you complete on your own, but a majority of our assignments are done in a group setting where you split the workload among the students. We rarely have homework as long as you stay focused and follow along in class. If there is homework, it will not be overwhelming, and it really helps you understand the material. Overall, the workload is about 2-3 assignments a week, and the homework are things that you don't finish in the given class periods. So if you work hard during class, you won't have any homework to complete! It's a good workload!" stated Smith
Shadow Ridge students have a lot to gain by taking Anatomy and Physiology, such as building a foundation of knowledge about the human body in preparation for college and future careers, and learning how to collaborate, problem-solve, and think critically. Those who are interested in learning about the human body and willing to work hard will find themselves right at home in this class.
"Just take the class!" Smith offers. "The worst that could happen is you learn new information that only exposes you to so much more than what you previously thought you knew!"