Zedekiah Henderson Headed to Eastern New Mexico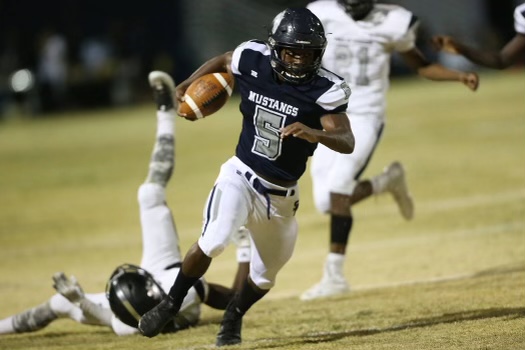 Yet another student-athlete has been added to the list of Shadow Ridge students earning great opportunities to play their respective sport at the next level. Shadow Ridge football star athlete, Zedekiah Henderson, has committed to Eastern New Mexico University receiving an offer to play college football. Henderson is a senior this year at The Ridge and, like everyone else, is missing out on a school year that was being looked forward to by many. This did not discourage Henderson, though, as he continued to stay on "the grind" and pushed forward each day and night to get to where he wants to be in the future, and that would be the National Football League.
Henderson spoke about his main motivators off the field and how they helped him push for greatness.
"The people doubting me, I really kept them close to my heart. People always would preach that big-time players do not and will not come out of Shadow. There were those who would constantly laugh in my face when I told them that I was going to play football at the next level. And, as it should have, that sparked a big fire under me, and I pushed myself to overcome any obstacle thrown in my way, including not being able to have a senior season to further showcase my talents on the field."
"
My mom has always kept me in a good headspace, and since I moved out to live with my dad, she hasn't had it easy. But watching her preserve through the struggles and all of her trials and tribulations showed me that I cannot lose focus or let anything get in the way of me trying to accomplish my goals. "
— Zedekiah Henderson
With the news breaking that all fall sports were canceled after being postponed to spring of 2021, students, coaches, and staff around the district were struck hard. This did not and will not stop Henderson, as his teammates will forever be a factor in his life moving forward.
"When I am on the field, there is nothing I let distract me or get me out of the mindset of giving it my all each and every play. And my teammates play a very big part in that. They push me to be better, and they really help get me into that second gear whenever I am tired and feel like giving up. When I fall, they pick me up, and for that, I give my all each and every play."
Family wise, Henderson can devote his achievements to his mother, who is very close with him and has kept him in the right mindset when outside of school
Henderson believes that his offer along with those of Dion Washington and Mackenzie Murdoch will help put a lot of Shadow student-athletes on the map in terms of getting recruited to play at the next level.
"I know we have some absolutely amazing players who I feel have potential with my scholarship along with others and there will be plenty of chances to play Divison 1 or 2 sports. I think a lot of kids at Shadow will get looked at and get the recognition that they deserve based on their individual skills and talents."