How AFJROTC Has Adapted to Online School
During in-person classes, many Shadow Ridge students are able to recall seeing flocks of students in blue uniforms all over school wearing flight caps, shiny black shoes, rank insignias, and ribbons. Due to online classes, this year students are missing out on the familiar sight. ROTC is one of the biggest communities Shadow Ridge has on campus, and they do much more than selling snacks at lunch.
"I think [the hardest part for cadets is the] self-discipline/personal responsibility. In some ways, they are having a college experience.  They have to get themselves to class and take so much of the initiative to get assignments completed, to study, and take tests. Some have their parents around to make up the gap of the pushing that teachers provide, but many are home alone all day, and the temptations to do other things, to cut corners, is just too much of a challenge for many. Some are up to it and rising to that challenge, others just won't," said Major Stanely.
The ROTC program has many aspects to it besides just students in a classroom. Cadets can be apart of many different teams, such as the Unarmed and Armed drill teams, Colorguard, and Physical Fitness Team (PFT). There are also clubs such as the mentorship program and the Kitty Hawk Air Society. Since students are unable to be on campus or attend off-campus events, things have had to been done a little differently. PFT and the drill teams have been able to do a few virtual competitions, with the Armed drill team placing third and winning a trophy.
Shadow Ridges ROTC program also has events outside of club and team activities, like community service, parades, and banquets that many students, like sophomore and c/Senior Airman, Paulina Camacho, look forward to.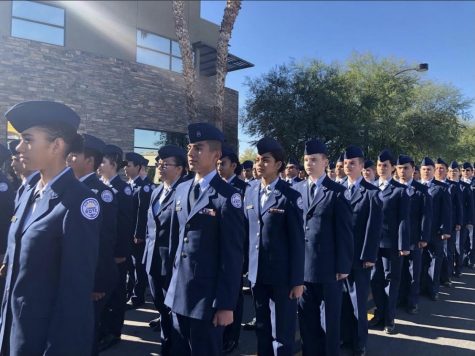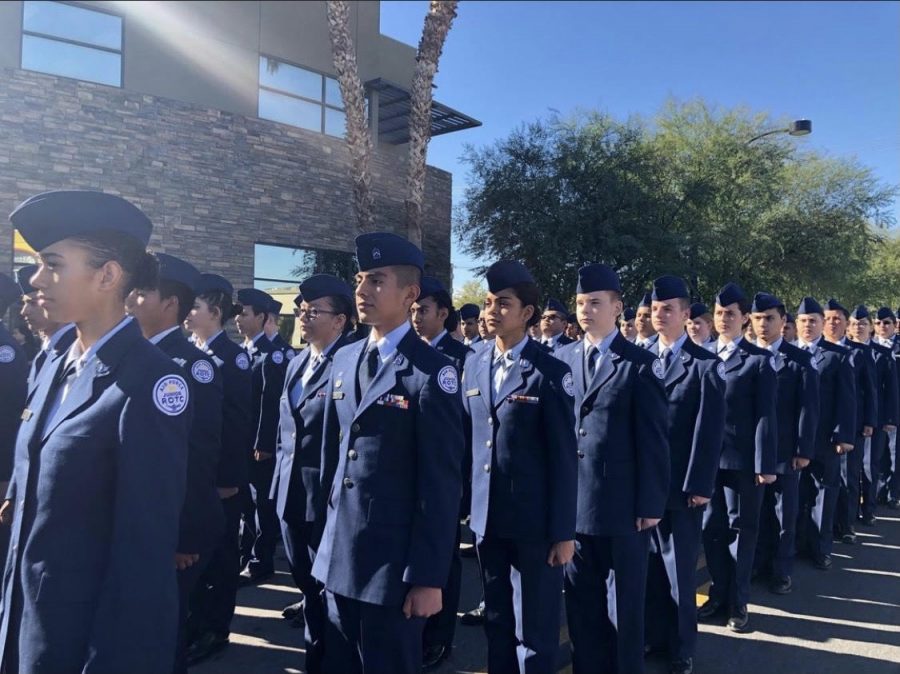 "We do a lot of events in ROTC that we sadly have to miss out on this year. We do parades every year that we weren't able to attend. We can't do any community service or have a military ball, which I've never been to because of quarantine from last year," said Camacho.
Camacho has been in ROTC for two years and originally joined because of a presentation that was done at her middle school. Even though much of her experience with the program has been cut short (due to the start of quarantine and virtual learning), she has still learned a lot from it.
"
I've learned a lot in ROTC such as being more informed on current foreign affairs. How to be a leader and manage a group of people effectively. Also how to be a good citizen with morals and treating others with respect"
— Paulina Camacho
"I've learned a lot in ROTC such as being more informed on current foreign affairs. How to be a leader and manage a group of people effectively. Also how to be a good citizen with morals and treating others with respect," stated Camacho.
The structure of the classroom has remained largely the same as with in-person classes. Uniform days and inspections however have had to change and cadets are no longer required to wear the iconic blue uniforms and are just expected to be in grooming standards.
Camacho explained, "The class has two instructors in the classroom, one is the aerospace science instructor, and the other is the leadership instructor. Mondays and Tuesdays are aerospace science days where we learn about aircraft but this year we've been more focused on foreign affairs. Thursdays and Fridays are leadership days where we learned ways to be better citizens and other life skills such as time management and confidence. We still do inspections, we just don't wear our blue uniforms to keep the process shorter. We have inspections every 2nd and 4th week of the month on the LE day. We go into breakout rooms where an assigned inspection officer inspects us to see if we meet requirements."
Major Jack Stanley joined the ROTC program as an instructor last year after retiring early from the Air Force. He had experience teaching before joining the USAF and was an instructor throughout his military career. Major Stanley enjoys that in his civilian life he still has the opportunity to represent the Air Force.
"[My favorite thing about ROTC is] how it uniquely gives me (and the cadets) one "foot" squarely in the "civilian world" as a public school teacher while keeping the other squarely in the USAF.  I have bosses in both worlds and our salary is split between CCSD and the USAF.  It is such a joy and honor to represent the USAF here at our school, but even more so to see cadets blossom from often shy and unconfident young teenagers into strong, compassionate, and confident leaders," stated Major Stanley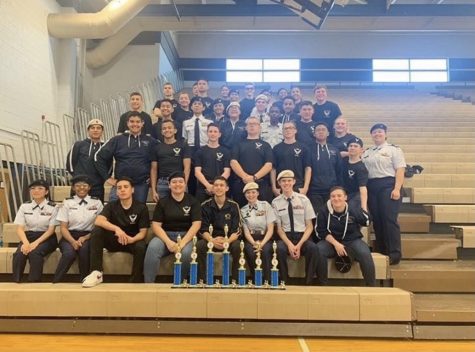 Major Stanley misses the ability to interact with the cadets and see that the students understand the material that they are being taught. He also feels for the cadets who are missing out on their first year of ROTC, especially those who may not return next year. 
Another concern of his is the cadets that are having trouble with the amount of responsibility that has been put on them this year. Many of the cadets have had trouble paying attention and staying on track because of the lack of interaction.