What President Biden Has Already done in his Presidency
In his first week of the presidency, President Joe Biden has taken many actions to repeal and create policies, including midnight regulations that will freeze Trump's policies planned for 2021 and to be reviewed by the Biden administration. The Muslim ban was an executive order from the Trump administration that bans travel from predominantly Muslim countries. President Biden has also banned discrimination against LGBT in the workplace and transgender people are now allowed to serve in the military. An executive order has also been made reaffirming American's commitment to tribal sovereignty mandating department and agency heads consult with tribal officials on policies that will affect them. The pandemic has brought xenophobia towards Asian people and an executive order has been signed to denounce Asian discrimination.   
"
I know this is not news we all want to hear, but this is something we must say so we are all aware," said CDC director Rochelle Walensky. "But if we are united in action, we can turn things around. Continuing to expand safe, effective vaccination is key to ending the Covid-19 pandemic and bringing our country back to health."
President Biden has also taken action on immigration through a reversal of policies and creating ways to include undocumented immigrants in the COVID-19 census. The DACA program has been reinstated that gives undocumented immigrants who came to the country as children to be protected from deportation and the ability to acquire a work permit. Biden plans to give a new pathway for citizenship for 11 million undocumented immigrants and expand refugee settlement. Federal funding going towards the southern border wall has now been stopped and the construction of the wall has been halted. Biden has revoked an order to expand interior enforcement work and broadened the criteria of who should be deported. Biden has also issued a memo pausing deportations for 100 days which began on Jan. 22. 
The Biden administration has entered back into the Paris Agreement which is an agreement to the United Nations Framework Convention on climate change which the Trump administration resigned from last year. President Biden also revoked the permit for the Keystone XL pipeline that transported fossil fuels from Canada across the U.S. Biden announced a new oil and gas leasing on public lands that will pause oil drilling. 
"We're talking about American innovation, American products, American labor, we're talking about the health of our families and cleaner water, cleaner air, and cleaner communities. We're talking about national security, America leading the world in a clean energy future. It's a future of enormous hope and opportunity. It's about coming to the moment to deal with this maximum threat that's with us right now….with a greater sense of urgency. In my view we've already waited too long to deal with this climate crisis, we can't wait any longer," Biden states.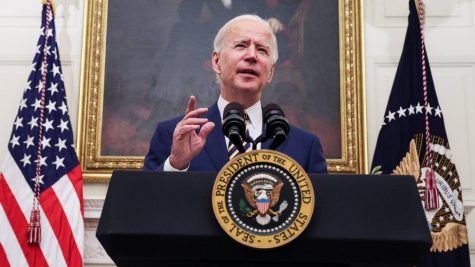 The main priority of the Biden administration is the crisis of the pandemic and on the first day of his presidency has mandated masks. He has also rejoined the World Health Organization and sent Dr. Fauci to speak at the virtual meeting. The pandemic has taken a toll on American families and the Biden administration has frozen student debt, extended foreclosure/evictions moratoriums, and expanded food assistant programs.  He also created the COVID-19 Health Equity Task Force to recommend where to distribute resources in communities that have suffered the most disparity from the pandemic. With the help of the Defense Production Act, which Biden has invoked, production of supplies and the organization of departments to assess the distribution of personal protective equipment will be free for those with comprehensive healthcare. 
"I know this is not news we all want to hear, but this is something we must say so we are all aware," said CDC director Rochelle Walensky. "But if we are united in action, we can turn things around. Continuing to expand safe, effective vaccination is key to ending the Covid-19 pandemic and bringing our country back to health."