Michael Dustin: Piano Is His Forte
Michael Dustin, sophomore, has been playing piano for 10 years. Though he originally started playing the piano because his mom made him, Dustin has now developed a love for playing the piano as well as teaching it.
"I wanted to quit many times. It's a hard instrument. The thing that kept me going was my mom. She pretty much forced me to stick with it, but I'm very glad she did. My favorite thing about playing the piano is that it's very relaxing and, when you've been struggling with a song for a long time, then a chord progression finally clicks and you can play it easily," Dustin shares.
Because of his commitment to playing the piano, and his skill, Dustin has performed at many recitals and festivals along with receiving awards for his piano playing. Stating that he's a big fan of Joe Hisaishi, Dustin loves to play Hisaishi's piano pieces. Some of Dustin's favorite ones are The Girl Who Fell from the Sky, One Summer's Day, and the theme from Howl's Moving Castle.
Dustin is able to share his love of music and piano with others by teaching them how to play the piano. Being able to go off of years of taking lessons himself, and his own piano abilities, teaching piano seemed like a good job for Dustin. He decided to charge $10 for a 30 minute piano lesson.
"I started teaching piano lessons because I had some people who were interested, and I wanted to make money without having to work for someone," Dustin explains.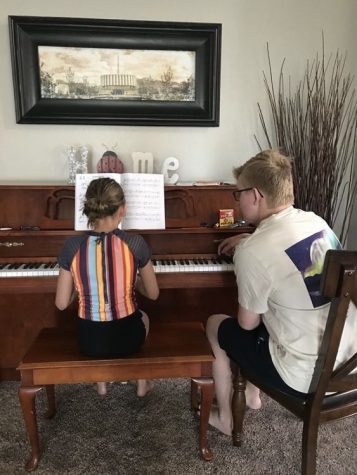 He definitely works hard for his students. He generally teaches younger piano students, some with little to no prior piano experience. This allows for him to help his students learn the basics and build up good practice habits. However, teaching young students also has its drawbacks.
Dustin says, "The hardest part of teaching piano is that the kids I teach are so young they don't pick up as fast on things as I do, so it gets a bit frustrating."
Despite some frustration, Dustin always works through it with his students until they get it. After all, his favorite part of teaching is being able to see the progression in his students.
"When teaching, my proudest moment was when one of my students was completely stuck. Two lessons had gone by, and she hadn't improved at all. I was getting very frustrated, but I stuck with it. The next week, she was able to easily float right through the song and that made me really proud."
His musical endeavors don't stop there. Though piano is the only instrument he teaches, Dustin has also picked up guitar recently, and performed as part of the chorus in The Smith Center as part of Zion's Youth Symphony and Chorus. Needless to say, music is a big part of Dustin's life. It makes him happy to see others succeed.