Erika Gallardo's Love of Cooking
Erika Gallardo is a 16-year-old junior at Shadow Ridge High School and a very passionate cook/baker. She has been in Shadow's culinary class since her sophomore year and has learned many helpful skills from taking that class. She loves to cook for her family at home and makes very delicious meals. She has been cooking for as long as she can remember and was very excited to learn that Shadow Ridge had a culinary class that she could take. Gallardo used to play the violin, but would rather spend her time doing what she loves, which is cooking. Gallardo played violin for four years before deciding that she didn't want to play anymore.
"Before joining culinary, I already had experience in the kitchen because I always cook at home. Being in culinary has helped me learn new skills that I use when I make something," said Gallardo.
The meals that she makes more often than others are spaghetti, fried rice, tacos, and curry stew.
Culinary is very different from how it was last year because of online learning, but they still manage to learn new recipes and skills. The culinary class has two teachers: Mr. Rosales and Ms. Bicsak. The class is divided into two sections, one part of the class focuses on cooking dishes, while the other on book work. The culinary class has been affected by distance learning because students aren't able to cook in the school kitchen, and now have to purchase their own groceries.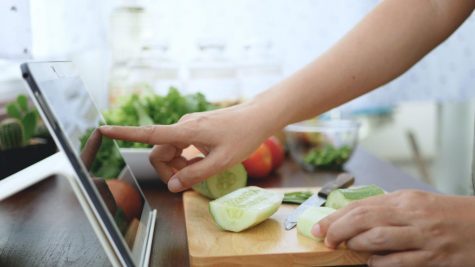 Chef Rosales records videos of himself cooking while giving instructions to the students so they can make the food themselves. For the other portion of the class, students now have to learn from the website KP Compass. On this website, they read information about certain cooking related topics and take quizzes about what they learned.
Gallardo says, "I miss being able to do culinary in school because that was one of the few classes that I always looked forward to."
If students aren't able to cook the food that they are learning how to make, then they have the option to fill in notes related to videos Chef Rosales posts for them.
She has met a couple of her friends through this class, and they made her first year of culinary fun. Although culinary can be challenging because of online school, Gallardo still enjoys the class and plans to take it again next year. She hopes that she will continue to improve on her skills and have fun while doing so.