Biden's Mask Mandate
Thursday, on his second day in office, President Joe Biden issued a mask mandate on any mode of public transportation, including air travel, as well as an order requiring masks on any federal property.
These were all part of the first executive orders Biden issued on his first day of presidency. He has also challenged Americans to wear face coverings for his first 100 days in office. One of Biden's main focuses for his first steps as president is to get Covid-19 under control and get the economy back on its feet. According to CBS News and a UCLA study, the mask mandate, if it works, could really do a lot to help the economy.
"A national mask mandate could add $1 trillion to the nation's GDP,  according to a recent UCLA study," states Aimee Picchi, CBS writer. "That's because the spread of infections could be reduced to zero if used universally and in combination with other public health measures such as contact tracing, the authors found. Other research from researchers at Washington University in St. Louis found that communities, where mask-wearing was mandated, benefited from a 5% boost in consumer spending as people felt safer to shop."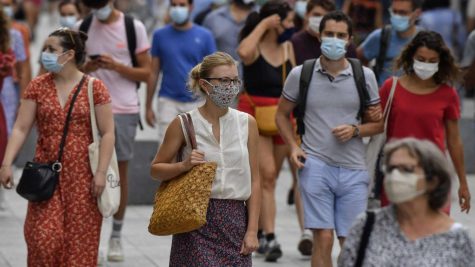 Masks have proven to be the most effective and inexpensive way to prevent the spread of the Covid-19 virus. It is also a resource that is easily available to everyone, with cloth masks being sold in almost every store and many patterns online for people to make their own personalized face masks. 
"COVID-19 spreads mainly from person to person through respiratory droplets. Respiratory droplets travel into the air when you cough, sneeze, talk, shout or sing," explains the CDC. "These droplets can then land in the mouths or noses of people who are near you or they may breathe these droplets in. Masks are a simple barrier to help prevent your respiratory droplets from reaching others. Studies show that masks reduce the spray of droplets when worn over the nose and mouth."
Another aspect of Bidens orders is that international travelers are required to be tested with a negative result before entering the U.S. and are required to quarantine upon arrival. 
"One of the actions with the highest potential impact is a requirement that people arriving in the U.S. from other nations adhere to what have previously been unenforced quarantine guidelines from the Centers for Disease Control and Prevention," states Fortune Magazine. "The CDC suggests international travelers get a second test for the virus within three to five days after arrival and that they stay at home or in isolation for seven days — even if the test is negative,"