Alabama Completes Undefeated Season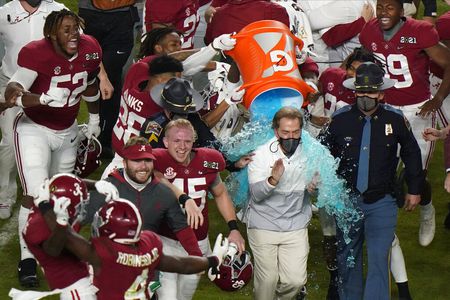 Another season has been completed in full, even amidst a pandemic. The College Football Playoffs are now over, with Alabama once again sitting at the top. Alabama faced off against the Ohio State Buckeyes for the National Championship and won in fashion, 52-24. Ohio State's Justin Fields could not keep up with Bama's high star-powered offense, nor could he find a rhythm against their stout defense. Alabama finished the year with 13 wins and not one loss for the season.
The big three tandem of quarterback Mac Jones, running back Najee Harris, and Heisman trophy winning, wide receiver DeVonta Smith, showed up and showed out in the season finale. Jones finished with 464 passing yards off of 36/45 passing and throwing a whopping 5 touchdowns. Harris toted 79 yards rushing off of 22 carries and 79 yards receiving, pulling in 7 catches. Harris finished with three total touchdowns, 2 carrying the rock and one pulling in a receiving touchdown. The Heisman winner, Smith, had an astonishing stat line snagging 215 yards from 12 catches and broke the plane 3 times in only the FIRST HALF! Smith suffered a finger injury that halted him from returning to the field in the final two quarters. Alabama continues to be a powerhouse in college football winning their 6th championship under head coach, Nick Saban. Saban has a total of 7 titles though, winning one with LSU before heading over to the crimson tide.
Simon Liaga, senior, preached his respect for Alabama, even though he roots for a rival team. "You know, even though I am a Georgia fan, I do have to give Bama their props for winning the championship again. It kind of does suck seeing them win over and over and over, but there is not much you can do when they are bringing in top recruits and developing them into great football players who later go and dominate the big leagues in the NFL. Devonta Smith is a top dog wide receiver and nobody was able to cover him all year. Najee Harris is an absolute unit of a running back who brings a very rare set of strength, speed, and athleticism. Mac Jones showed to be a great pocket passer who makes limited mistakes and can get the ball to his playmakers. I see this team being in the playoff conversation for many years to come, but hopefully my team can get their stuff together and be right there with them."
Alabama's offense is what highlighted the team but the defense was more than dominant as well. Christian Barmore and Patrick Surtain declared for the draft on the defensive side, along with the trio of Jones, Harris, and Smith. Wide receiver, Jaylen Waddle, has also declared for the draft, making six players on this Bama team projected to be selected in the first round of the 2021 NFL draft.