Golden Knights Begin Training Camp
The Golden Knights Prepare for Next Season Starting on January 14th
With the start of the NHL season set for January 13th, and the Golden Knights first game on the 14th, the Golden Knights have started their training camp to set up the roster for the upcoming season.
Training Camp is more important this season than ever, as there will not be a preseason for teams to decide their rosters. Add on to that the World Junior Championship where many rookies try to prove themselves against each other, many teams, including the Golden Knights, will not be able to get the same roster that they would be able to in a normal year.
The most notable player for the Golden Knights at the World Junior Championship was left winger Peyton Krebs. Krebs was drafted in 2019 at 17th overall, he regretfully fell down in the draft because of a leg injury he got early in his junior season. Ever since he recovered from that injury he has had incredible numbers in the junior league, the CHL, and he was a part of Team Canada's top line during the World Junior Championship.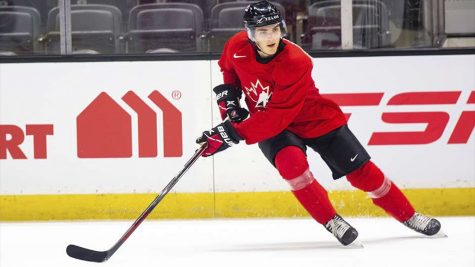 Another player who has been carving out a path for himself in the NHL with the Golden Knights is Las Vegas native, Gage Quinney. Quinney was undrafted, but so far has had a very impressive training camp. Last season, Quinney played three games with the Golden Knights, and scored one assist.
Center Cody Glass has also had a lot to prove this training camp. He played his rookie season last year, but a few major injuries held him out of about half the season and the playoffs. In his time off of the ice, Glass has added eighteen pounds of muscle and has been faster and stronger than ever in training camp.
William Karlsson has been a leader on the Golden Knights ever since their inception. In their first year, Karlsson scored 42 goals and 35 assists, but he has never been able to reach production like that since. Karlsson's last season was on pace for about 60 points, which would have been the closest he has gotten since. But, Karlsson has continued to evolve his game into a steady first line center, and into one of the best defensive forwards in the league. It seems though that Karlsson wants to get back to the scoring pace that he had in his first season with the Knights.
"I want to be better than I was last year. So hopefully… not hopefully, I will be better than I was last year," said Karlsson.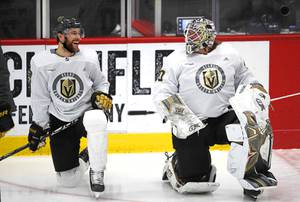 The final player to make an impact is recently picked up defenseman Alex Pietrangelo. Pietrangelo was the captain of the St. Louis Blues last season and was voted the fourth best defenseman in the league last season. Pietrangelo signed a 7-year deal with the Golden Knights during the offseason.
"Transition's been pretty good for me," Pietrangelo said. "First day is always a bit of a scatter where the energy is at its highest. Everyone's trying to find their place. As we get on through camp and play some more scrimmages, it'll continue to be more fun. It's fun to get back to playing some real hockey."