Trump Supporters Raid Capitol
On Wednesday, January 6, 2021, around 1 pm EST, a large group of Trump supporters gathered at the U.S. Capitol as Congress met to confirm the outcome of the 2020 election. Members of Congress were soon escorted out of the building or forced to shelter in place as Trump supporters breached the building.
Earlier in the day, President  Donald Trump held a, what he called, "Save America Rally" near the White House where he spoke to his supporters claiming that he had won the election and that the election has been stolen by so called "radical left democrats" and so called "fake news media." He urged his supporters to fight for the election saying that he would not concede.
"We will never give up," said Trump. "We will never concede. It doesn't happen. You don't concede when there's theft involved," stated Trump.
Throughout the rally, Trump encouraged his supporters to walk down to the Capitol and "patriotically make your voices heard." Soon after the rally finished, thousands of Trump supporters made their way to the Capitol.
Supporters then began to push past barricades and fight with Capitol police. Within 2 hours, Trump supporters breached the west side of the building and started scaling walls. Things begin to turn increasingly violent as supporters started breaking windows and entering the building. Supporters broke into both the Senate and House floors along with multiple offices, one man being photographed sitting at speaker Nancy Pelosi's desk.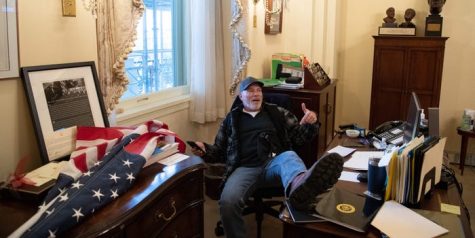 Senators and members of Congress were forced to evacuate, many of whom took to Twitter to relate their experiences. Members were instructed to put on escape hoods as they were evacuated or sheltering in place, hiding under desks and seats. 
"I am in the House Chambers," stated Michigan rep. Dan Kildee. "We have been instructed to lie down on the floor and put on our gas masks. Chamber Security and Capitol Police have their guns drawn as protesters bang on the front door of the chamber. This is not a protest. This is an attack on America."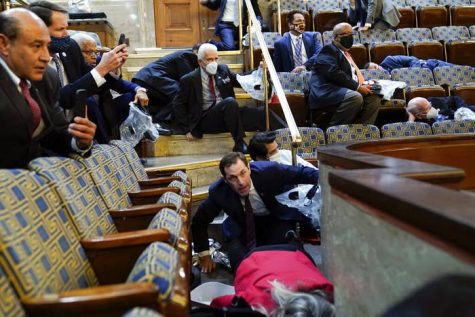 Throughout the raid on the Capitol, President Trump issued a series of tweets that have since been taken down by Twitter for violation of its policies. Trump urged supporters to stay peaceful as they were infiltrating the Capitol, later telling his supporters to go home saying that they are "very special people" and that he loved them and knows how they feel.
At 8 pm, after everything had been settled and the intruders had been removed from the Capitol, senators reconvened to vote on the confirmation of the election. Many Republicans who had previously stated that they were going to object to the certification of the election decided to vote on the confirmation of the election instead. They condemned the actions of those who invaded the capital and called upon President Trump to take action.
Senator Kelly Loeffler said, "When I arrived in Washington this morning, I fully intended to object to the certification of the electoral votes. However, the events that have transpired today have forced me to reconsider and I cannot now, in good conscience, object."