Buffalo Wild Wings Review
Buffalo Wild Wings is probably the most famous Wing Spot in the country, the restaurant's claim to fame is it's giant projectors and wall to wall sports. The game day vibes at Buffalo Wild Wings is unmatchable, what more could a sports fan want? B-dubs, as some call them, got their start in Ohio the year 1982 where they originally only had one tv. Since then they've made a few changes and became one of America's favorite game-day hangouts.
Since the pandemic and lack of sports, Buffalo Wild Wings has had been reduced a bit from its former glory but the wings are still ready to go. The usually loud and rowdy wing spot was abnormally quiet when I walked in, which was something completely unexpected. They still did have dine-in options but many of the tables were taped off. The small entrance was a little crowded with people waiting to get a table, waiting to pick up food, or waiting in line to order food. Masks were required of all guests and team members, and social distancing was requested but not strictly enforced although they did try to keep the number of people in line as minimal as they could. The cashiers also had a plastic panel in front of them.
Ordering was really easy, the cashier was easy to understand and very helpful. I told her all of the flavors I wanted and she let me know the number of wings I could get, then all I had to do was tell her the sides and sauces I wanted. I ended up ordering 24 wings with 3 different flavors, 1 regular fry, blue cheese, and ranch dressing (I did also get a veggie tray but I won't be reviewing it) the total cost being $38.50.
After ordering they asked for my name and phone number, they used my phone number to inform me of the status of my order which was super helpful. I waited in the car until I got the text that my food was ready which was about 25 minutes after I ordered. I just walked in and gave them my name, they handed me my food and I was out in like 40 seconds.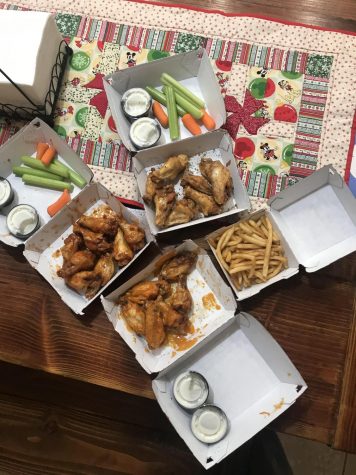 The wings and fries were both packaged in paper boxes with no wax paper and put into a plastic bag, the boxes did absolutely nothing to keep the heat in. This is probably due to the fact that Buffalo Wild Wings is primarily a dine-in restaurant and not very well suited for takeout. The 3 flavors I ordered were Asian Zing, Mild, and Lemon Pepper. Another thing to add is that instead of the mix of blue cheese and ranch that I ordered, all I got was ranch.
The best wing for me was the Asian Zing, which was a wet wing. The sauce was very sweet and sticky with a heavy ginger taste and had chili flakes that gave it a really nice kick with a moderate amount of spice. The wing wasn't exceptionally crispy but was very tender and juicy so I didn't miss the crispiness.
The second best was Mild which is another wet wing. This wing was really incredible and one of the best milds I've had. It was super saucy and had a very strong buffalo flavor, the spice was definitely there but it wasn't overbearing in any way. The Mild also wasn't very crispy but it had a bit more crunch than the Asian Zing, however, the meat was a tad bit dry.
In third came the Lemon Pepper which was a dry wing. Now even though this wing took the last place, it does not mean it wasn't a good wing. The wing had a very well balanced seasoning with a nice tangy flavor. The Lemon Pepper was super crispy but the meat wasn't dry in any way. It wasn't as exciting as other Lemon Pepper wings I've had but it was still very enjoyable.
Next came the sad french fries, who were without a doubt the worst fries I've ever had. They had almost no seasoning and were cold, limp, and thin. The only thing that made them appealing in the slightest was the fact that I could dip them in ranch.
I had a pretty good experience overall at Buffalo Wild Wings, the only things that really deterred me were the french fries and bad packaging. The wings were stellar and the way they handled customers was really impressive. I would absolutely recommend Buffalo Wild Wings,  but dining in would probably be the best way to go, or make sure to have an air fryer on hand. Buffalo Wild Wings gets 6 out of 10 chicken wings.