A New NHS Recruit
After years of hard work and dedication, junior Trinity Rizo, has successfully succeeded in getting into the National Honors Society for 2020-2021. While maintaining a 3.5 GPA or higher, Rizo has been trying her hardest to stay on track of the meetings, community service, and grades that are required to stay in the National Honors Society. This is something that she has made her top goal for her junior year and for her to succeed in it makes her unbelievably proud.
The National Honors Society is a big privilege and it is not easy getting in and staying in once a student is accepted. Being a part of this means that the student is the highest of his/her class not just in terms of academics but also in terms of leadership, service, and character. Rizo, is excited to show her commitment and meet new people who are similar-minded.
Rizo states, "Getting accepted into the NHS was my main goal for this school year, I wanted the experience. I wanted to get to experience the activities, like going to group community service events, so I can meet new people and make new friendships."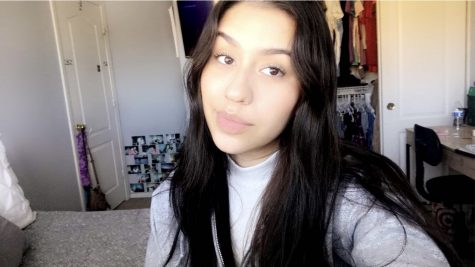 Rizo commented, "With the pandemic that we are in, it makes me sad that I won't be able to experience certain activities like going out and tutoring new students face-to-face or going to do community service at a nursing home, but I believe that when the pandemic is over I will be able to finally put myself out there and try new things that I wouldn't usually find myself doing." 
Due to the pandemic, Rizo has not been able to experience the full ride for this journey but she is excited to see what the future holds and to be able to see what this does for college and even her career. Learning how to better skills like communication and teamwork, will help her in the long run and she will keep pushing to hold her place. 
Rizo encourages others who have struggled with trying to get in to not give up, stating, "When I received the email that I had got in did not really shock me, shocked was not my reaction, the feeling of pride was. Every year I tried to push myself to meet those expectations but it was hard, it caused stress. So when I got in, it was a moment of relief. It made me confident in myself and it made me realize how much hard work pays off."
She wants other people to experience that feeling of accomplishment because it truly changes the way a person can see him/herself.