The Legacy of Tony Hsieh
On November 27, Tony Hsieh, Zappos' former CEO and the man credited with the revitalization of Downtown Las Vegas, passed away. Hsieh was 46 and left behind no will as well as no spouse or children. 
"The Hsieh family hopes to carry on Tony's legacy by spreading the tenets he lived by – finding joy through meaningful life experience, inspiring and helping others, and most of all, delivering happiness," attorney Dara Goldsmith shared on behalf of Hsieh's family.
There is no doubt that Hsieh did try to spread happiness everywhere he roamed. Hsieh was so dedicated to the idea of spreading happiness and having his workers work in comfort, he co-founded Delivering Happiness. Delivering Happiness focuses on having employees work at their full potential in the most effective and positive way. 
Several businesses took in Hsieh's and Delivering Happiness' way of thinking such as McDonald's, Starbucks, and Toms. Hsieh did not just
focus on the happiness of his employees,  but also indulged in their cultures and the cultures around them. 
Hsieh once said "What's the best way to build a brand for the long term? In a word: culture." 
Hsieh realized that it took more than just hard workers. Businesses had to be in tune with the world around them. With this state of mind Hsieh's company, Zappos grew to be worth 1.2 billion dollars. Zappos went on to catch the attention of Jeff Bezos, also known as the richest man in the entire world. Jeff Bezos' Amazon ended up buying Zappos for $928 million. 
Hsieh is also credited with the development of an Airstream trailer park in which Hsieh himself lived. It was created out of effectiveness and minimalism. One key aspect was that the trailer park was within walking distance of Downtown Las Vegas, where the Zappos headquarters reside. Not only were there Airstream trailers, but there were also several small shed-like homes and repurposed shipping containers which sparked one of Downtown Las Vegas' most popular attractions, The Container Park.
Hsieh would go on to invest $350 million in the revitalization of Downtown Las Vegas. Hsieh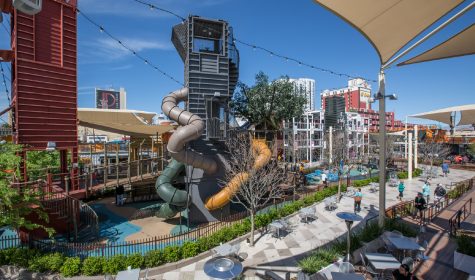 contributed $50 million to several small Downtown Las Vegas businesses to help build a sense of community and neighborhood.  Hsieh would help fund the opening of Downtown Las Vegas' very own container park. The Downtown Container Park was made to be able to open the doors to create a community and help small businesses boom. It's free of charge to enter and has varieties of small shops and restaurants that are sure to pique anyone's interest. 
Hsieh leaves behind a sense of community, opport
unities, and freedom to all of Las Vegas. It could be said, Hsieh accomplished his ultimate goal of spreading happiness and bringing life to Downtown Las Vegas.