COVID Having Historic Career in the NFL
The NFL is getting hit left, right, and then left again when it comes to the Coronavirus. Two times in one week the NFL had events that never happened or have not happened in quite a while, with the Denver Broncos becoming the first team to start a non-quarterback at the position since 1965.
Yes, 55 years ago was the last time this was done. Every single quarterback on the roster was deemed unable to play due to high risk based on the NFL's health protocols amid the ongoing COVID-19 pandemic. All four Broncos quarterbacks were forced to isolate in quarantine after one of them tested positive for the virus and, apparently, none of the quarterbacks were wearing their masks while they were together, causing them to be deemed high risk close contacts to COVID.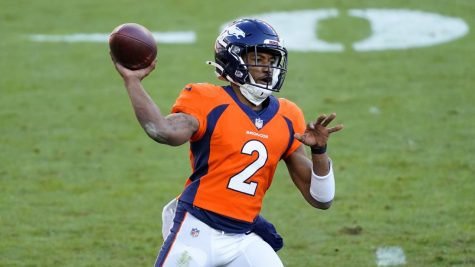 Also due to COVID, an NFL game was held on a Wednesday for the first time in league history, between the Baltimore Ravens and the Pittsburgh Steelers. The game was supposed to be held on Thanksgiving night, highlighting the three games on turkey day.
Mark Blake, senior, shared his thoughts on what has transpired in the NFL as of late, "Look, you can call me biased because I am a Bronco fan, but I do not think that it is fair at all that we were forced to play without a single quarterback, yet the Ravens and other teams have gotten their games postponed. They postponed the Ravens game three times! And we had absolutely zero days to prepare for what happened to us because it all happened one day before our game was supposed to be held. We were so desperate, we tried to ask the league if it was okay for one of our coaches to be activated to our roster in order for us to have SOMEBODY on the field throwing passes."
Denver did, indeed, attempt to activate one of their coaches on the roster, but that is in no way legal in the NFL and the league said no. Denver was forced to start practice squad wide receiver Kendall Hinton as their QB. Hinton has never seen a snap on an NFL field at his wideout position, let alone having the entire offense depend on him.
Blake went on to state, "This was a crucial week for us, and it feels like we got screwed over. If feels like my favorite team was made an example of for the rest of the league, yet at the same time other games have been moved in the past weeks, and even after our game. Our playoffs hopes are all but gone and we are just going to have to look forward to finishing the season strong."
Denver scored a whopping three points in Sunday's outing against New Orleans and fell to a 4-7 record on the season. In order to make the playoffs, the orange and blue must win all the rest of their games and have a whole lot of luck from other teams losing a handful of games. The best Denver can do is find a rhythm and hope to build momentum towards next season. With a young core and star players returning from injury, the future is fairly bright in Denver.