Crashing The Music Industry
Nathan Moss, senior, is slowly on the rise to a career in the music industry, It's only a matter of time before his next song becomes a huge hit for the whole world to soon know.
Moss started singing about 6 years ago and has been taking lessons ever since. Only recently, in July of this year, is when he started actually writing his own songs. Just like many other young artists, he is given the opportunity and ability to artistically express himself through a universal language.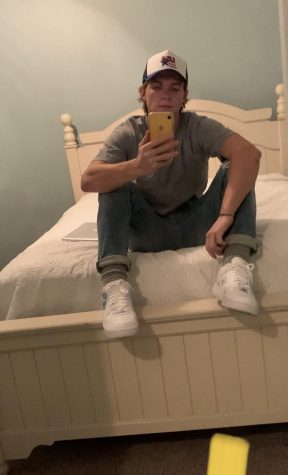 Having big plans already in motion, Moss states, "I have a bunch of projects in the works, but I have an EP coming out December 11th, and I plan on releasing a couple singles and then an album next year. I want to make it in this business."
Working hard everyday by the encouragement of his vocal coach and parents, he pushes himself to bring attention to the music right now so that in the future he can move on to televised performances. 
Moss finds his style as more attention is brought to his music. He writes a mix of a lot of genres, mostly pop type lyrics and vocals, with jazz influence and indie instruments, commenting, "different songs have different influences." Moss believes his songs can really get him somewhere big in this industry and soon he will truly be able to prove it to many others. 
Moss has this great passion for music and to be able to play his songs in front of a huge crowd is what he fights for. Consistently working hard, expanding his skill and knowledge more and more every day, and finally, learning the ropes of this business are the goals he is trying to achieve. It is not easy building personal and professional relationships. Everybody starts off differently and it is the motivation that keeps them going so that artists like Moss can grow into something that holds a lot of meaning to them. Young adults accomplish nothing by sitting there and not trying.
No matter what industry someone work in, it will always be hard to be successful. Moss wants others to step out of their comfort zone and try what they have been wanting to try but have not because they are worried about what others might think or say. It is about being hard work,  drive and passion.