Paige's Passion for Cheer
Freshman, Paige Martinez, has been cheering for 4 years starting at the age of 9. She first joined the cheer team at Howard E. Heckethorn Elementary in 4th grade then later joined the Anthony Saville Middle School team in 7th grade. She also has experience in competitive cheerleading having participated in club team Maniakz Cheerleading. Martinez also hopes to make Shadow Ridge's JV cheer team this year.
Martinez started cheerleading in 4th grade because she "thought cheerleaders were cool." She continued with cheer in 5th grade and tried out for the Saville team her 6th-grade year but didn't make it. She tried out again in 7th grade and earned herself a spot. She continues to train and work hard to progress her skills.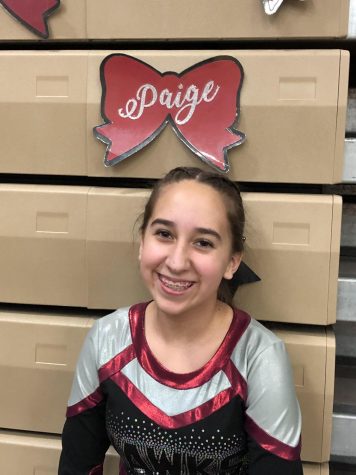 In her 8th grade year, Martinez decided to join a competitive cheer team to further develop her skills. Mrs. Baker, her cheer coach also coached on the Maniakz club team and encouraged her to join. 
"I joined club because I wanted to grow more and my middle school coach had connections," explains Martinez.
Through club Martinez was able to learn new skills and develop her technique. She was also able to get a better feel for the competitive cheer world, practicing multiple times a week and doing many competitions. Martinez simultaneously did competitive and school cheer while balancing her school career. She had to attend practices for both groups and cheer at competitions as well as middle school basketball games while also maintaining her school work.
Martinez states, "It was a lot of stress [being on Maniakz] just because I had to balance two teams, but it was an awesome experience getting to be apart of it."
This year, Martinez hopes that her hard work will pay off and aims to try out for the Shadow Ridge JV team. She wishes to make friends, further her cheer career, and further develop her skills. 
"[I want to join] for the experience and to continue to get more skills," says Martinez. "I [also] hope to meet new people, experience new things, and grow as an athlete."
Because of the spread of Covid-19, cheer and other sports seasons have been pushed back to spring. In July, cheer held intramurals that were cut short, but they project to continue tryouts early next year. 
"Back in July when we started intramurals we were running a mile every week to improve our times because that would replace stunting at tryouts," Martinez explains. "We also would work on standing tumbling, jumps, cheers, and running tumbling. Right now our tentative tryout date is January 2nd."
Cheer has had a huge impact on her life and who she is as a person. She enjoys being apart of a team and making connections with her teammates. 
"My favorite part is] probably getting to work with a team and getting to grow close to the girls you practice with," says Martinez. "[Cheer] has made me a stronger athlete and I have much more patience and drive. I also have a much higher pain tolerance."