Tamara Spencer is a teacher for Shadow Ridge High School who teaches regular and honors Geoscience classes. Her classroom is filled with horse images, which she says is fitting because Shadow Ridge's mascot is a Mustang. 
She loves teaching and can't wait to fill the young minds with fun information.
"Teaching is special to me because I love to teach and help students learn materials," Spencer stated. "I wanted to become a teacher because I felt like it was what I needed to do when I was in college." 
Spencer brings her pet snake, Zuri, to class and keeps it in an enclosed cage to keep her away from students but still loves showing her off to her classes.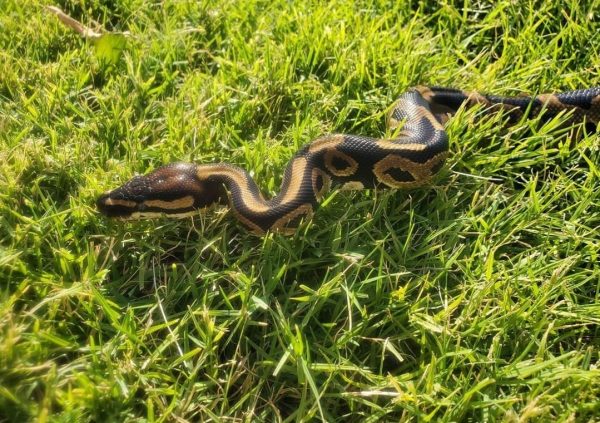 "I have always loved pet snakes. I like that they are calm and would rather hide than bite," Spencer said. "I love most animals but mostly cats and snakes. However, I hate venomous and poisonous snakes because they seem more willing to strike for no reason."
Spencer was given her first ball python when she was in college. 
"My mom gave me my first ball python during my college years but she ended up passing away a couple of years ago after I moved to Las Vegas," Spencer stated. "In December of 2022, I ended up getting Zuri, my new snake and I very much adore her. I adopted her from the Animal Foundation which frequently gets reptiles for people to adopt." 
Although it has been used in the hit television series Jessie, Zuri was chosen for the adored snake for other reasons. 
"I chose the name Zuri because it means beautiful in Swahili and ball pythons are native to Africa," Spencer said. 
Even her students love the idea of having Zuri in the classroom.
"I love Spencer's snake. I think it's so fun that she brings it in," junior Charlotte Overley stated. "The snake makes the class more fun and welcoming."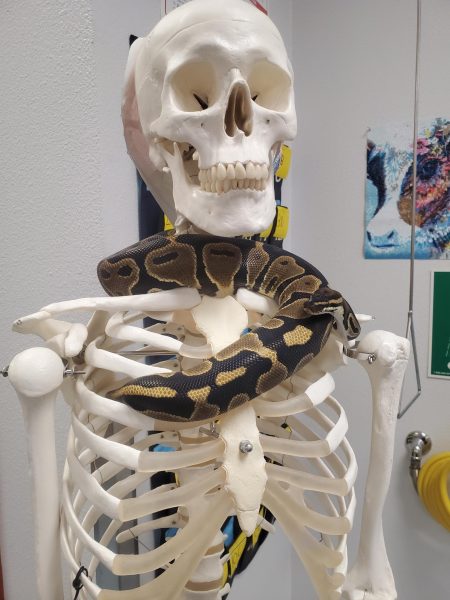 Snakes are often something people can fear or love. They can be dangerous and they can bite in ways that do more harm than good for the sake of their protection. But they can also be loving creatures who want to be loved just as much as any other species. It requires a lot of work to take care of a snake and it should be done with precaution and the right ways to do so. 
"I would say, if you want a snake, you should do your research. I don't think I cared for my snake as well as I should have and I wish I could go back to do better," Spencer stated.  "I hope that I am now making up for it with Zuri because she is chunky and for sure spoiled. Still to this day, I do my research. I follow a ball python Facebook group and have learned a lot from other members. It has helped me in many ways." 
Her students enjoy being in Mrs. Spencer's class along with the snake.
"I really like Mrs. Spencer's class. I think all of the decorations and the snake create a calm and inviting atmosphere," Overley stated. "Plus learning about Geoscience is something I really love and I find it fascinating since it is something I am passionate about."
Spencer loves all types of animals and can't wait to take care of her beautiful and loving snake for years to come.