Shadow Ridge's student council is inviting all staff, students, and family members to help volunteer at the Magical Forest at Opportunity Village to help the community during the holiday season. The event is on Friday, December 8 from 4:30-9:00 pm. All volunteers should arrive by 4:30 pm to prepare for the opening at 5 pm.
Mustangs can fill out this form to sign up, and if they are under 18, a parent or guardian must fill out the attached waiver as well. Volunteers must be at least 14 years old and everyone is responsible for their own transportation. The Magical Forest at Opportunity Village is located at 6300 W. Oakey Blvd, las vegas, NV. 
The images below explain what to expect as a volunteer, a map of the Village, as well as a copy of the waiver which can also be accessed through the Google form. 
Junior Angelica Luff has been a part of Shadow's Student Council since last year. She really enjoys helping out the community and even went on a trip back in October with other StuCo members.  
"It was awesome to see our Special Ed program get to participate in something fun for them. Our Interclub Council was able to help Opportunity Village with a lot of set up for their Magical Forest and overall it was an amazing event that should definitely happen again."
Luff's wishes are coming true, Mustangs are able to help Opportunity Village once again at this upcoming event. 
Community service has a way of bringing out the best in those around you, and it was awesome to see that in some of my classmates.
— Savanna Mcdow
The Opportunity Village website describes the Magical Forest as, "A festive, all-ages theme park in Las Vegas," they also explain that the forest, "is an outdoor event so be sure to dress warmly." On their website visitors can purchase tickets, donate, learn about their program, and more.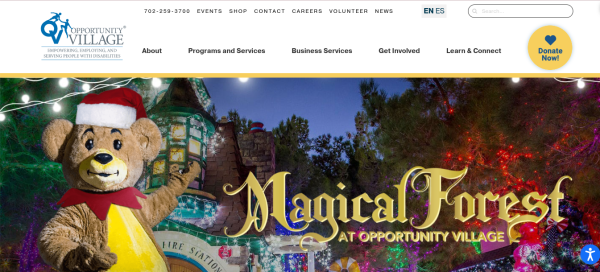 Luff continues, "I love that our council includes different programs and makes sure they can engage in new activities." 
Interclub Member Savanna Mcdow helped out with the last Magical Forest event, she had a lot of fun working and learning about the company's goals. 
"My favorite part about volunteering may sound very generic but I love to give back to the community and build better connections with those in the different foundations. It serves as a time for people of different backgrounds to come together and strive towards the same goal, and is a frequent pastime for my family."
The Magical Forest opens on November 24-26, November 30-December 3, December 7-10, and finally they end the holiday season from December 14-31. All information about dates and times can be found on their website.