Shadow Ridge's Varsity Cheer team has a big reputation at school and across Nevada, gaining high praise and recognition along with multiple awards throughout the years. The Varsity Squad added new addition, senior Travis Pangelinan, to bring more depth to the squad as the only boy on the team.
Despite being in his first year of cheer at Shadow Ridge, Pangelinan has been tumbling since he was 6 years old, teaching himself by watching the Bratayley YouTube channel. After tumbling his entire life and seeing the cheerleaders on the sidelines during basketball games in 7th grade, he fell in love with the sport.
"I never knew that my knowledge and skills of tumbling could fit into the world of cheerleading until those games. From then it sparked something inside me and I knew I wanted to try out for the cheer team," says Pangelinan.
Travis is beyond talented as an athlete; he is what we call a triple threat: stunting, tumbling, and cheer/dance. We are so lucky to have him!
— Mrs.Pezone
At the end of seventh grade at Canarelli Middle School he tried out for the next year's team and made it, and since COVID-19 cut eighth grade short for all current seniors, he only had about a year of cheerleading experience before Shadow Ridge. 
For his first three years of high school, Pangelinan was not a member of the cheer team, but credits seeing Shadow Ridges cheer team during assemblies his junior year which made him miss cheering and decided to join the team his senior year.
"I also wanted to make use of my skill set, continue to advance my skills and knowledge of cheer, and do one of the things I love most since it's my last year of high school!" says Pangelinan.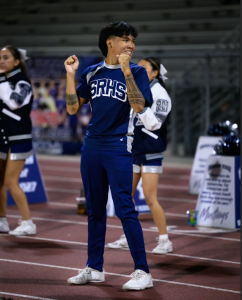 This year, Pangelinan is the only boy on the cheer team, and he has expressed the challenges that come with that position. 
"The hardest part about being the only male is the backlash I get for being a cheerleader. It can be challenging due to the constant discrimination and negative attitudes I have to face, but the best part is the rewarding feeling of getting to break societal norms and expectations," says Pangelinan.
Despite the troubles, Pangelinan has made the best of the situation and loves cheering for Shadow Ridge saying he actually loves being the only male cheerleader, despite the hardships he perseveres because it is his passion. 
Varsity cheer coach Mrs. Pezone taught Pangelinan before he decided to join varsity cheer and has now got to see two sides of him, an intelligent student and amazing cheerleader.