Swing Dance has been part of Shadow history for quite some time. However, the club had to be postponed by the advisor, Regina Spanier. Due to certain circumstances, Spanier didn't feel the greatest and not at all herself. Students were sad about the club being postponed but understood the reasoning behind it and overall wanted Spanier to feel better. However, with her feeling so much better, Swing Dance Club is back! 
Spanier is the French teacher at Shadow Ridge High School who speaks fluently in French, English, and Spanish. She has helped many people mentally and is always willing to listen to her students making sure they are their best selves. When her students saw her getting sick, they were scared of what might happen to one of their favorite teachers. Luckily, all is resolved and she is back on track to making her students feel welcome in her classroom and clubs. 
Swing Dance originated in the early 1920s and became widely popular until the 1940s. Spanier never took an interest in swing dance but started the club for the students who wanted her as their advisor.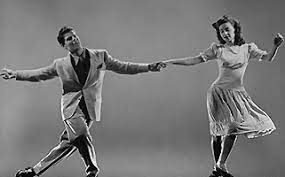 "There were some students who did Swing Dance in their church and wanted to bring it to the school to share with the others," Spanier states. "They asked me to be their advisor even though I didn't know how to swing dance but the kids were great instructors." 
Following in the footsteps of her older sister, the president, senior Sophie Sparks restarted the club. Since she is now a senior, she wanted that chance to bring it back to Shadow Ridge. 
"Swing Dance Club is so important to me because it's the first high school club I've actually ever gone to and now that I am a senior, I wanted the opportunity to bring it to life myself," Sparks stated. 
Elizabeth Fisher
A junior at Shadow Ridge High School named Elizabeth Fisher went during her freshman year and missed the fun last year.
"I started going to the Swing Dance Club because I loved doing it my freshman year so I decided to go back this year for my junior year and have some fun again," Fisher stated. 
Fisher's favorite swing move is called Grave Digger. 
Fisher said, "It [the move] is super fun and a simple move that involves some fun swinging and no one could get hurt!"
This year, the club is focusing on teaching the students country swing dance. It is hosted every Thursday in the school's cafeteria and anyone is welcome to join in on the fun.