Even since the Knights won the Stanley Cup against the Florida Panthers, they had a very busy off-season. In addition to the regular summer Vegas shenanigans, the city's pride and joy got to celebrate the win with an iconic parade and other cup celebrations. Despite this summer of fun, fans have been waiting for the Knights to get back on the ice. After a 3-4 preseason record, the Knights had their home opener against the Seattle Kraken on October 10th where they began their quest to keep the Stanley Cup in Vegas. 
During the off-season, many changes were made to the team, including many trades and new leadership on the ice, with stars Jack Eichel and William Karlsson receiving the title of assistant captain. The preseason for Vegas had many ups and downs but they ultimately ended up with a 3-4 record, with one overtime loss. In addition, the Golden Knights captain, Mark Stone, was caught up in some controversy during a preseason game against the Los Angeles Kings. After a seemingly clean hit from AHLer Hayden Hodgson a fight between the two teams occurred. During the scrum, he got into the face of 20-year-old prospect Brandt Clarke. His actions during the fight, which Stone says scared Clarke,  "That's probably the last time I'll ever play against that guy [Hogdson]. Not really much of a player, so I'll leave it at that."
Despite the preseason drama, the Knights were as ready as ever for the start of the new season. And as the world knows, Vegas knows how to put on a show. The players began the night walking into T-Mobile Arena on a gold carpet hoisting the Stanley Cup.  Conn Smythe winner, Jonathan Marchessault, brought his award as well. The Knights are well known for their pre-game festivities but the beginning of the 23-24 season takes the cake as best one yet. A knight was seen on ice pulling a sword out of a stone to introduce the knights to the arena as the Stanley Cup champions where Stone was waiting, lifting the cup above his head. After, Stone played a giant slot machine, which the Stanley Cup Banner then rose out of.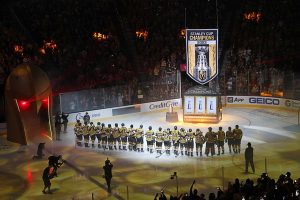 The Knights couldn't let the historic night for them end in a loss, which they achieved by beating the Kraken 4-1 with goals from stars like Eichel and Marchessault.
"Going to the home opener game after winning the cup was completely different than going to a regular home opener game. Everyone was filled with so much energy and so were the players. We were able to see the team work together again and defend their title. Seeing the cup on the ice made me proud to be a Golden Knights fan," says senior Cian Monaghan.