Back in March, popular food corporation, Chipotle, released their chicken al pastor as a temporary item on the menu. The chicken became a hit for several months before they decided to remove it and replace it with carne asada in September. Since then, customers have made a fuss to bring back the al pastor and make it a permanent item. 
Junior Isabella Zane explains, "I loved the chicken al pastor, it was very flavorful and frankly, was the only reason I was going to Chipotle for the past several months. Chipotle is good but this chicken was a great addition to the menu and I want it back."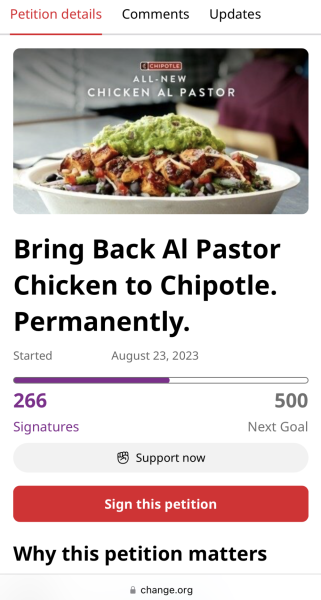 Chipotle described the chicken as, "seasoned with a powerful marinade of Chipotle's signature adobo, morita peppers and ground achiote with a splash of pineapple." Chipotle customers argue that bringing back the carne asada is repetitive, since it has been a recurring item on the menu since 2019.
Junior Cole Johansen has been eating at Chipotle for several years, and back in September he tried the new al pastor for the first time.  
"Personally, I like the grilled chicken from the menu the best, but the al pastor chicken was a good addition if I wanted to add more flavor to my bowl. My friends liked the chicken a lot and I do agree that the carne asada is repetitive. Chipotle's chicken was unique." 
When carne asada was brought back to Chipotle, they released a reel on their Instagram page (@chipotle) announcing the return. Almost all of the comments were filled with angry customers telling them to bring back the beloved chicken and keep it permanently. Most of these customers were unaware that the chicken was temporary, so when it was taken out of stores, there were a lot of questions. A petition to bring back the al pastor was even started on change.org
Did you try the chicken al pastor before it was taken off the menu?
Sorry, there was an error loading this poll.
Zane continues, "I think the Instagram comments were hilarious to see, but I do agree that they need to put this chicken back on the menu. It makes no sense for Chipotle to take away such a popular item, if they noticed it was doing good in sales, why take it away?" 
There are several complaints not just on Instagram, but on other popular social media sites like TikTok and Reddit. Business Insider explains, "the chain could potentially consider making it a permanent item 'down the road.'" Until then, most of the customers have stopped their visits to the restaurant as frequently.