The Last Man Standing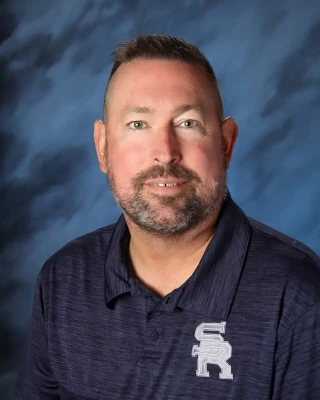 Dr. Steven Barnson is a Film Studies teacher and a coach at Shadow Ridge. He has been at Shadow Ridge since it opened and the only male teacher left of the few original teachers who are still in the building.
"My passions growing up were sports and as a college athlete when I saw my playing days coming to an end, I thought becoming a teacher or coach was my best shot for continuing to be part of the sports world," Dr. Barnson shares.
Before he began his educational career after high school, he knew that to be a coach, he had to become a teacher first. When he began teaching, he realized that he loved working with students not only on the field but in the classroom as well. While he is a well known teacher and coach at Shadow Ridge, many students don't realize that he is also an Adjunct Professor at the University of Nevada Las Vegas. His area of expertise is sports leadership, sports psychology, and coaching. His class at UNLV focuses on introducing students to coaching and the fundamentals of being a youth sports coach.
"Typically, I teach 2-night classes at UNLV and each class usually meets once per week for close to 3 hours per night. It makes for some long sessions, but there are breaks worked into it," Dr. Barnson stated.
According to Dr. Barnson, teaching is the best job in the world for him. Having the opportunity to pass his knowledge to others doesn't feel like a job, it feels more like an opportunity. "Working with young people to reach their dreams and goals is an honor.  I can help them see the bigger picture and help prepare them for what's to come in their professional lives."
"Having the chance to see the "lightbulb" go on with my students is the coolest thing. Seeing them get excited about a topic that I introduced to them is the best feeling ever. However, teaching in high school and college is so different, it's like comparing apples and oranges," Dr. Barnson added."
Dr. Barnson explained that high school students, for the most part, understand that they don't know everything, so they are more excited to absorb something new and fascinating. On the other hand, college students have a drive and a sense of passion, and that letting them see the whole picture is his goal with them.
He has always had more than one job at a time. He was a teacher and a coach. As his career with CCSD is coming to an end, Dr. Barnson is planning to go full time at the college level.
Dr. Barnson expresses that "I love teaching at Shadow. Shadow is my home, and when you love what you do, and it's not just a job or work, but a passion."