Shadow Ridge's golf team is having another successful year. They moved up to the 5A Division, and 3 of their starters, sophomores, Holly Rodriguez,  Ayvah Rossi, and Aaleia Johnson, have made it to the state championships. Last year, with the girls coming out on top at state, Coach Steven Huesch, made the decision to move them to 5A. 
Huesch said, "It's nice to see the program grow with all the girls." 
He is very happy with the growth of the team this year, and excited to see how the girls do in the 5A state tournament in Pahrump at Mountain Falls Golf course on October 11th and 12th. 
The girls are also very enthusiastic about this season. 
Senior, Macaylee Van De Wege shared, "Tournaments are super fun, it's super nice getting to know the other girl golfers from different schools, and getting to spend time with the other girls on our team." 
She also stated, "I've been on the team now for three years and I love practice with coach and meeting all our new girls, even though it's sad to see our seniors leave." 
They have grown together as a team, and while it's hard to let those seniors go, it gives the other girls an opportunity to follow in their footsteps. 
The team this year consists of 12 girls: freshmen: Ariana Bautista, and Madison Fletcher, sophomores: Aaleia Johnson, Alexa Ledgerwood-Smith, Holly Cheyne, Holly Rodriguez, Ayvah Rossi, Madison Turner, Juniors: Peyton Price, and Katrina Sierra, and seniors: Blake Eecklor, and Macaylee Van De Wege. Of the 12 girls on the team, 6 are starters and actually play in the matches and tournaments.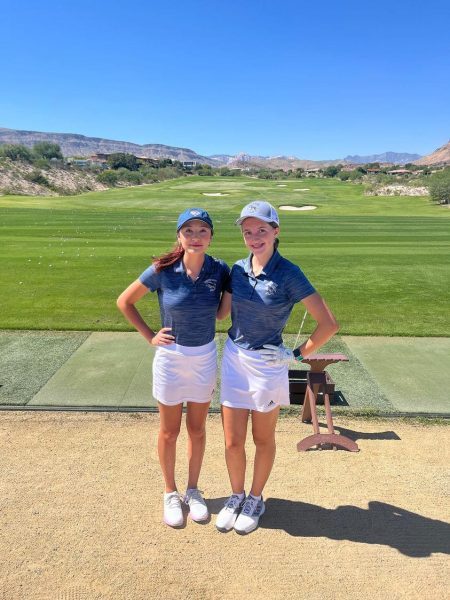 "For competitions, We take the top 6, so athletes have to work their way up to their goals," said Coach Huesch. 
"Golf is basically the definition of hard work, and it's mostly mental," he added. The girls work hard all season, at least twice a week at Painted Desert Golf Course, and on their own time to improve their skills and hopefully make the cut for tournaments. On top of working on their golf skills, they work hard in school to keep their grades up. 
Students and staff alike will find it exciting to see how the girls perform at the state tournament. If anyone  sees coach Huesch or any of the girls on the team in the halls at school, they should be sure to wish them the best of luck at the state tournament on October 11th and 12th.