Going Coconuts over Enslaved Monkeys
When somebody thinks of coconut milk, where does their trail of thought take them? Most probably wouldn't think about forced monkey labor. Yet the truth of the matter is, there's some sort of connection there. PETA Asia's investigators recently alleged that the farms of Chaokoh brand coconut milk use monkey labor to churn out their product. The monkeys, reportedly suffering, are forced to pick coconuts all day long. Due to this, Costco and several other retailers have reportedly halted selling this brand of coconut milk.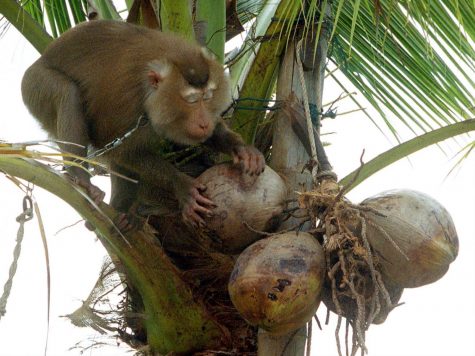 Chaokoh's manufacturer in Thailand, Theppadungporn Coconut Co., is the primary victim of these monkey labor accusations, however, one of their reps claims that a third-party confirms their farms are free of monkey labor. Some stores said they are looking into the claims so they can responsibly sell Chaokoh brand milk without knowing it came from servant monkeys.
"PETA Asia's investigators found cruelty to monkeys on every farm, at every monkey-training facility, and in every coconut-picking contest that used monkey labor," said PETA in a press release. "When not being forced to pick coconuts or perform in circus-style shows for tourists, the animals were kept tethered, chained to old tires, or confined to cages barely larger than their bodies."
PETA also claimed that many monkeys showed signs of mental anguish and are terrified to defend themselves because, as one farmer explained, handlers may have pulled their teeth out if they tried to fight back.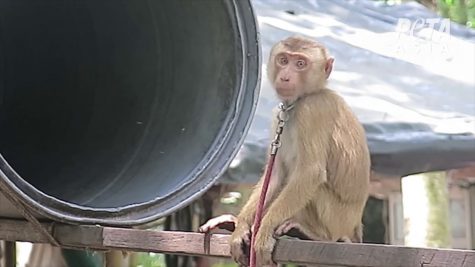 Chaokoh responded to the allegations, saying, "Following the recent news about the use of 'monkey labor' in Thailand's coconut industry, Chaokoh, one of the world's leaders in coconut milk production, reassures that we do not engage the use of monkey labor in our coconut plantations."
Stores such as Target and Kroger are looking into the situation because they want to ensure that they do not sell any products that came from an unethical source.
Ingrid Newkirk, PETA president, claimed that "no kind shopper wants monkeys to be chained up and treated like coconut-picking machines."
Whether monkey labor is being used at Theppadungporn Coconut Co. farms or not, most can agree that monkey torture and slavery is a bad thing. Nobody wants to see these poor monkeys in pain or being forced to pick coconuts for the rest of their lives, so it's worth at least looking into and making sure no monkeys are harmed in the production of food at home.