Fall Sports are back in business at Shadow Ridge, which means soccer season has started. Both men and women's soccer are in fall, so many students during the months of August-October are trying their best to score some goals. Meanwhile, Coach Williams and Coach LaVoie are working hard with their athletes to make the this soccer season the best it can be. 
Junior Liliana Arechiga has been on the women's soccer team since her sophomore year. This year, she is working a job along with playing soccer, which means she has set goals for herself to make sure that everything gets done. 
Arechiga explains, "Soccer has been really fun this season. I love practicing with my teammates and getting hype for games. Playing the sport I love and being with my friends along the way makes the game so fun."
Shadow's soccer teams show their dedication by practicing several times a week. This is in preparation for the games they play every weekend. The teams often have away games, which means staying out late to play at another school. 
Junior Maya Garay likes to watch the school's soccer games. She is a runner on the school's XC and track team, so she understands the importance of peer support. She enjoys going to watch the games and support the team.
"I love going to home soccer games. I think it is important to support the school's athletic teams, so I like to go with my friends after XC practice since I am already at the school. Our soccer team always puts up a good fight." 
Balancing both school and sports can be difficult at times, especially if students are also in other extracurricular activities.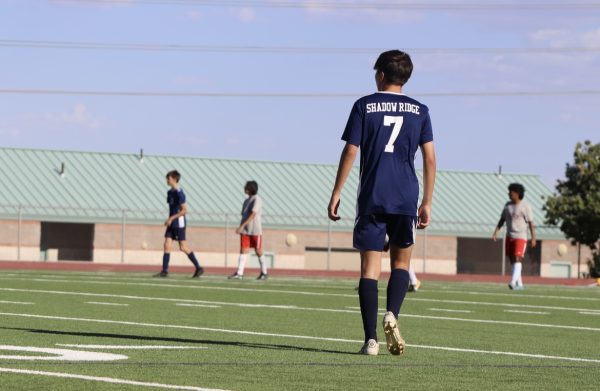 Arechiga continues, "Away games can be exhausting, especially when you have homework to complete. Having a school, sport, and work schedule is definitely helpful during this time of the year to make sure you don't fall behind. Personally, I like to keep track of everything using my notes app.
More information about this soccer season as well as other fall sports can be found on the Shadow Ridge website, on the soccer team's Instagram page @srhs_soccer, and on the daily announcements.