First-Rate Debate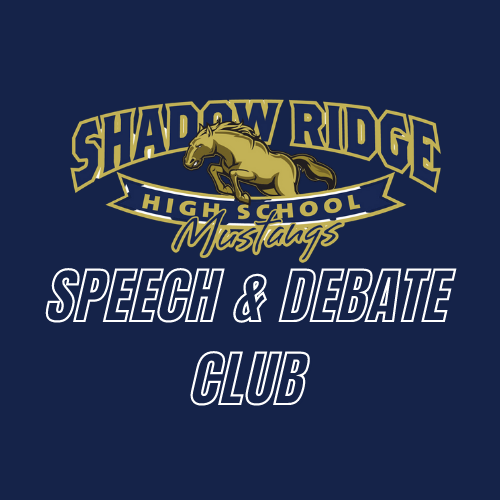 Shadow Ridge High School is offering a new opportunity for students, the Speech and Debate Team. This organization provides students an opportunity to develop skills in research, critical thinking, organization, persuasion, and communication.
Some of the objectives of this club are to have students become more involved in the world, the different issues and events that happen around them, and for students to be invested in these issues; students will hopefully feel the need to take action as well.
According to Dr. Baaske, one of the advisers of the team, "Speech and Debate is a place where students can learn oral and written discourse, and how it's used in society. There are many different categories within speech and debate, there's oral interpretation, original oratory, a duo interpretation debate. Speech is on one side and debate is under another, but they're all under the same umbrella."
Ms. Hayley Fife, English teacher and one of the advisers of this club, said, " We are thrilled to start up the club and enter into some competitions."
The best and most unique part of this club is that the students are not required to have any speech and debate, public speaking skills, or prior knowledge about the subject. Ms. Fife and Dr. Lisa Baaske will teach students everything they need to know. The advisers are hopeful that this club can eventually turn into elective classes where students can come and participate in higher levels of speech and debate.
Dr. Baaske stated, "I want to see this become a class, an elective class, and I want for it to continue even if I'm not the adviser. I want it to become so strong, so supportive, I want to end up having all-day classes, that would definitely be a win, I want it to be so successful that it will continue even if I'm no longer advising it."
Because of distance learning, all meetings will take place virtually.  The team is currently meeting on Tuesdays at 2 p.m., but after January 1, the team will meet on Tuesdays and Wednesdays at 2 p.m.
Dr. Baaske explains that there is a lot of work ahead for this group to get going
"In the beginning, it's going to be a lot of how-tos. I'm going to say between now and January, there's going to be a lot of organizational work, and we need to create our constitution… I thought that right now was the best time to get that started because we are virtual, so we can get a lot of that out of the way.  I want to come running out of the gate next year. I want to be ready.  I want to see at least a couple of students compete before the end of this year, so that's my ultimate goal. We just have a lot of prep work to do, we're kind of starting from scratch."
This organization will focus on political debates and what makes a good argument. Students will have a better understanding of how the government works, using research skills to find credible evidence to back up what the students say and write.
Ms. Fife recommended, "Students should join because it is a great opportunity to work on public speaking skills."
There will be monthly speech and debate competitions that Dr. Baaske will judge.  Once the group is up and running, they hope to compete locally with other high schools.
Students in this program will understand and appreciate the concepts of how oral and written discourse can help create effective and productive members of society.
The topics discussed can vary to just about anything that is going on in the world today. The organization will be following the rules and regulations of the National Speech and Debate guidelines to prepare and practice debates.
Students who are interested in Speech and Debate should fill out this Interest Form.