Spotlight: Avrie Vohs
Avire Vohs is an exceptional student, actress, and classmate to many. She has many hobbies and interests that have carried over from her childhood to her teenage years. With many accomplishments and interests to place on her belt, Avrie Vohs takes having a busy schedule to another level. 
In her sophomore year, Vohs has been in her first two high school productions, The Adams Family and Curiosity Cat. However, this does not mark the start of Vohs' career, as she has been hooked on acting for as long as she can remember. 
"Theater has always been a part of me. I remember my very first audition very well. I was terrified and was not the best, but that was ok! I walked in, sang, and I can still very vividly see the scrunched-up look on her face when I was singing, which made me giggle. Getting the Evil stepsister role in Cinderella made me feel confident in myself. I did it. I tried out for something, and I made it." Vohs continues," Acting in theater helped me branch out and meet new people. When I am acting, I can be a completely different person. When I am having a bad day myself, I know that when I am acting, I can put that all aside for a moment and put my character together. Theatre has become a sort of therapy for me, and I could never be more grateful for it."
"
Avrie is amazing because she's so kind and she always makes me feel better, even when I feel not so good. She's just so cool and awesome.
— Lucas Halvorson
Outside of spending countless hours practicing and perfecting her scenes in each play, Vo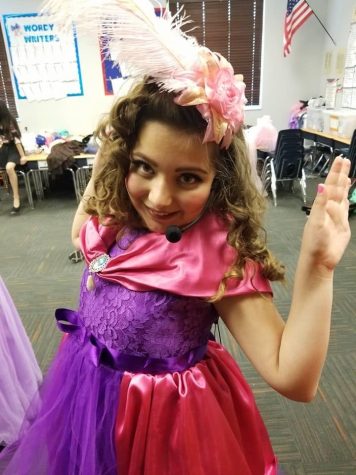 hs enjoys choir in and outside school. Vohs has participated in choir since the third grade, and the passion for performing art has carried over and has always been of interest. 
"Choir has always been a rock for me. I have been in it since I was in 3rd grade. It is all I have ever known. I do not remember a time when I was not in it. Singing has always been something that I knew I could accomplish. It is something that I can practice hard in and know what I am doing. Before, my choir teachers just saw me as another student, but I think that my current choir teacher, Mr. Halvorson, really sees me, and he has helped me become a better singer since," expresses Vohs. 
On top of her passion for theater and choir, Vohs can be found reading, listening to Harry Styles, or re-watching The Hunger Games films. 
"Reading was an escape from reality. It originally was a punishment my parents would use. They would have me read if I did not do a chore or messed up in school. At first, I was not too fond of it, but as I grew older, I loved it. In 4th grade, I already had a 12th-grade reading level. I cannot pick a favorite book, but my favorite genre is romance. It makes me feel all giddy inside and always so good. When the two characters fall in love, it is almost like I am there. I am watching these people grow. It has always been so beautiful to me," explains Vohs.