Saying Goodbye to Our Foreign Friends
Students, between the ages fourteen and eighteen, from all around the world have the opportunity to study at a U.S. private or public high school. These individuals live with an American host family for around a year on a J-1 exchange visitor visa. Although it has only been a year students have grown to love and appreciate the international students here at Shadow Ridge. 
Sophomore Lea Valette is from France. She is only 15 years old but was glad to make the trip to America. Valette explains that it was hard being away from home but she is very proud that she did it. She states that her host family helped her so much and she isn't the same person she was before this. Valette also stated that there are some key differences between the U.S. and France.
"The differences between the USA and France are huge.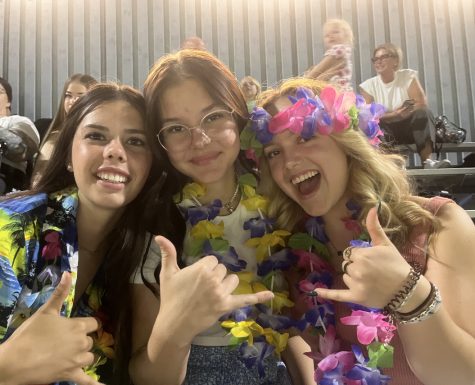 First off the food surprised me at first, then the people here are so nice and helpful. In France people just focus on themselves and don't care about other people in the street," Valette explains. "The teachers here are like your friends, they talk about their life, in France the teachers are strict and they are here to teach you not to talk about themselves."
Irene Pastor-Perez, a junior, is from Valladolid, Spain. Pastor-Perez did cross country, track, and was the manager for the flag football team. She explains that there isn't really a culture here in Las Vegas because of all the different people, but she really likes how Americans treat their families. She also stated that the people in the U.S. are very nice compared to those in Europe. Pastor-Perez has plenty of goals for the future.
"By the end of my experience, which is in 2 weeks, I want to be fluent in English. I've learned a lot of things, I had to do everything by myself with no help, but that helped me a lot because it made me a strong person physically and mentally," Pastor-Perez stated. "At the beginning of my experience I was a very shy person, and it was hard for me to talk with new people. Now I can do it without any problem."
Junior Chloé Reoyo was living in France before coming to America. Reoyo is half French and half Spanish. She explains that she has lived in both countries and they are very different compared to the U.S. Reoyo has taken a lot away from her experience here. 
"I have learned that you can't judge a book by its cover and you can't ask people to be the way you want them to be.
I have learned to say yes to new experiences and not be scared to go talk to someone even though we are not friends," Reoyo states. "I think I have learned about myself and what and who really matters to me. I won't let people treat me a certain way just because it's easier to say nothing."
Rafaella Mye Tagudi de Sousa, a senior, is from Brazil. She explains that America can be really different from Brazil but is also pretty similar. Mye Tagudi de Sousa states that people in Las Vegas respect each other's personal space and demonstrate love in ways other than physically. She has also learned a lot from the people around her.
"My time here taught me that I don't need anyone to be happy, and that starting something like this is life changing," Mye Tagudi de Sousa stated. "I can say that I'm more mature and I have grown so much in areas like responsibility, independence and self knowledge."
Senior Izzy Nebeker is Mye Tagudi de Sousa's host sister. Nebeker explained that the experience has been so much fun, and that she has learned so much about Brazilian culture.
"I'm sad she will be leaving so soon, she is like the sister I never had," Nebeker explains. "I'm going to miss instantly being able to find something to laugh about with her and I'm sure going to miss having someone around my house that is closer to my age in which I can hangout with and relate to."