Steps to Getting a Driver's License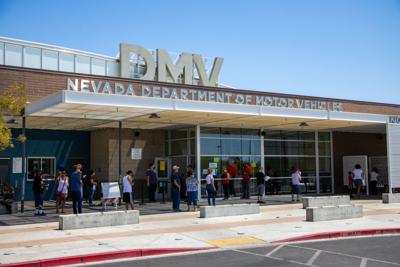 Students 15 years or older often find themselves wondering how to go about getting their driver's licenses.  While the task may seem daunting at first, there are easy steps to follow for prospective drivers.
Driving across town in Nevada requires a license or a permit with a licensed adult present in the vehicle. There are three types of licenses available to be acquired in Nevada. Class C, which is the basic driver's license that allows students to drive common cars, vans, and pickup trucks. This license also allows towing another vehicle of 10,000 pounds or less where the combination of vehicles does not exceed 70 feet.  A Class A/B commercial license allows drivers to operate any combination of vehicles with a gross vehicle weight rating (GVWR) of 26,001 pounds or more.  Finally, Class M, which gives permission to operate a motorcycle or moped on the roads of Nevada.
Acquiring an Instruction Permit is the first step to getting driving privileges in Nevada. It allows people hoping to acquire a driver's license to drive while being supervised at all times by a licensed driver of 21 years of age or older, who has at least one year of driving experience and is seated next to the driver. The applicant must then complete the application form and make an appointment. Students wishing to take the permit test must take a parent or guardian to the DMV. The documentation required to receive a permit includes proof of identity, proof of address (2 documents), proof of Social Security Number, and if the applicant is under the age of 18, he/she will need a Certificate of School Attendance. At Shadow Ridge, this document can be acquired by Ms. Angela Quintana of the upper office.
Ms. Quintana states the importance of being fully prepared ahead of acquiring the permit. "The upper office completes about 2 to 5 certificates a day for licenses. I have to turn down at least two in a month because the student was not aware that they could not have more than 10 absences in a semester. If a student misses one period it is counted as one whole day. The upper office does not count days that are excused by a parent, a parent would have to bring in a note (or email) to the attendance so that it is marked accordingly within 3 days of the absence. A student can obtain a DMV form online, or here is the link for the form Certificate of Attendance. They need to fill out the top portion of the form ONLY.  Once that is done they can email it to me at  [email protected] . A student should expect that to be returned to them by email or in person at the end of the next school day."
Once a student arrives at the DMV, he/she will take the vision test and knowledge tests. Once those have been completed the hopeful driver will be required to pay the $26.00 test fee, then later the $23.00 permit fee. If the permit test is passed, the driver is then required to drive at least 40 hours during the day and 10 while the sun is down. 6 months after acquiring a permit, the student will be eligible to take the driver's test. Passing that will then allow the driver to have a legitimate Nevada driver's license.