SRHS ESPYS
On Monday, May 15th athletes and their families put on their best outfits and walked the red carpet into an amazing award show that recognized Shadow Ridge's stellar athletes, coaches, and fans. It was a fun night filled with all things sports.
The whole night was brought together by SRTV's very own Tristan Niemeyer who was the guest MC for the night and did a fantastic job. 
The first award of the night was the Rising Star Award. This award went to a freshman or sophomore who exemplifies amazing performance in their sport. The nominees for this award were Jaylani Palmer who is a freshman and member of this year's state champion flag football team, Elynn Okuda who is an outstanding track and field star, and Maddison Foster who is a member of the Shadow Ridge Varsity Softball team. The award went to Elynn Okuda in response to her outstanding track skills. 
The next award was male Athlete of the Year which went to the athlete who was voted top male athlete of the year. The nominees for this award included Brock Morrow who was a member of the tennis, basketball, and baseball teams and took home a state championship ring for tennis this year. Tyler Kirk who plays a vital role in the recent success of the men's volleyball team leading them to back to back state championships. Lastly, Evander Thomas who is a member of the track and field team. The winner of this award was Brock Morrow who even had some fun on stage.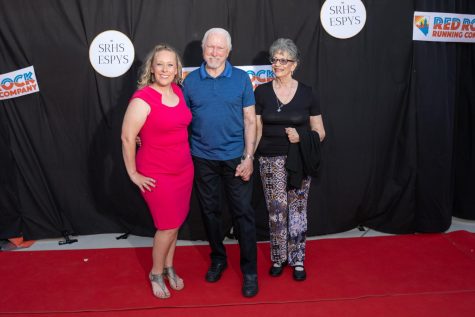 Morrow poked some fun at fellow nominee Kirk saying, "I want to thank my coaches and teammates but more importantly, I really hope volleyball is winning right now so Tyler doesn't have to take two L's tonight" sparking immediate laughter from the crowd.
Next, the Scholar Athlete of the Year award was given out to an athlete who not only gave above and beyond performance at their sport, but also in the classroom. The nominees for this award were Brady Beko who has reigned on top of his class all four years of high school while playing varsity men's volleyball, Katelyn Fisk member of both the cross country and track teams, and Bella Hawkins who is a member of the dance team. The winner of this award was Brady Beko.
The next award of the night was the Female Athlete of the Year which went to the athlete who was voted the best female athlete of the 2022/2023 school year. The nominees for this award were Josslin Law, member of the state championship tennis team and softball team. Aivry "Lali" Makiwi four year varsity volleyball player, and Leah Okuda track and field and cross country star. This award went to Leah Okuda who shared a few meaningful words.
Okuda stated, "I just want to thank mostly my sister, she got the Rising Star Athlete Award, and I would not be this good without her.
The individual athlete of the year award went to an athlete who put up stellar individual stats. The nominees for this award were Alessio Lucero member of the men's swim team, Aaron Coverdale member of the men's wrestling team, and Jacobi Gledhill member of the women's wrestling team. Aaron Coverdale received this award as he is an outstanding wrestler. 
Next, the people who make it all possible for these athletes everyday, the Assistant coach of the Year Award was given to the assistant coach who received the most votes. Coach Brad McKee wrestling coach, Coach Tony Scaccia football coach, and Coach Drew Dubois flag football and softball coach were put up for this award. Coach Dubois took home this award along with many mentions of his amazing hair. 
This next award was not voted on by the public but instead all of the coaches around The Ridge and the winners of both the male and female coaches awards both received $500 scholarships thanks to The Redline Fundraiser Scholarship. The winners of this award were football and track and field player Nate Smith as well as women's soccer star Loegan Alia. 
The next award was the Game of the Year Award which went to the game that was voted on by the public. The nominees for this award were the 2022 men's volleyball state championship game, the women's soccer regional quarter final game, and the flag football state championship game. The winner of this award was the flag football team for their amazing state championship game which brought them a back to back state title.
The Hillary Lavoie Award went to a fan that exemplifies all things Shadow Ridge. The contenders for this award were Victoria Lamontagne – Whitehead and Layla Carlos with Victoria taking this one for her endless hours as a part of the Shadow Ridge Cheer team as well as nonstop efforts put toward student council and running Shadow Ridge's social media page. 
The Coach of the Year Award is a special way to recognize these adults who put many hours into doing endless work for their teams, contenders for this award included, Coach Gus Gledhill wrestling head coach, Coach Luke Wilson men's volleyball head coach, and Coach Matt Nighswonger head flag football coach. Coach Nighswonger took this award home as well as many positive remarks about his amazing head of hair. 
The next award went to the Team of the Year which was up for grabs by flag football, varsity cheer, boys cross country, 2022 boys volleyball, and 2022 baseball. The winner of this award took home $300 for their program and went to flag football. 
Last but not least, the Mustang Elite Award which went to someone who does so much for the Mustangs athletic department. The nominees for this award were Nick Talbot the athletic trainer at Shadow, Joe Covington announcer for many athletic events, and Alonso Osorio- Kalawe the athletic custodian. This award went to Nick Talbot. 
Not only were these amazing people recognized for their athletic dedication, many amazing guests took part in this event too. Shadow Ridge women's soccer alum Jaylin Salazar came to share her experiences as a collegiate athlete, Olympic swimmer Katie Grimes sent an amazing video congratulating athletes along with WNBA player from the Las Vegas Aces A'ja Wilson, and former Vegas Golden Knight Nate Schmidt sent in wonderful videos as well.  Joining live and in person was Shadow alum and sports extraordinaire Mark Schuermann and UFC Hall of Famer and Vegas native Marc Ratner. 
Many were also recognized for their many years of hard work and dedication coming to an end. Coach Gus Gledhill is stepping down from his coaching career after 19 years of amazing coaching for the wrestling team. Also stepping down is bowling coach Nikki Turner and varsity soccer coach Kalah Williams.
Mr. Aaron Olsen was also given a dedication as he has decided to take a step back from his administrative position and move back into the classroom to work with students first hand as a member of the science department. 
Last but certainly not least, a beautiful moment was taken to remember and appreciate former athletic custodian Michael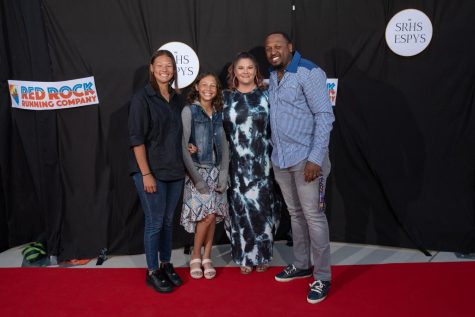 Newman who sadly passed away earlier this year. The Newman family joined the ESPY Awards to accept an appreciation plaque in honor of their beloved family member who put in so many years of service towards the Mustang athletic community.
Congratulations to all award winners and thank you to Coach Kalah Williams for putting on an unforgettable night.