Seniors Leaving The Lariat
As the school year comes to a close, the journalistic talents of seniors Mikayla Maluyo and Violet Flanagan are abandoning the beloved Lariat staff, on to bigger and better things. 
Flanagan has been working on the Lariat since she was a sophomore. Violet says she joined because her friend was and thought it would be fun and a good experience. She gets most of her motivation to write articles from classmate Mikayla Maluyo.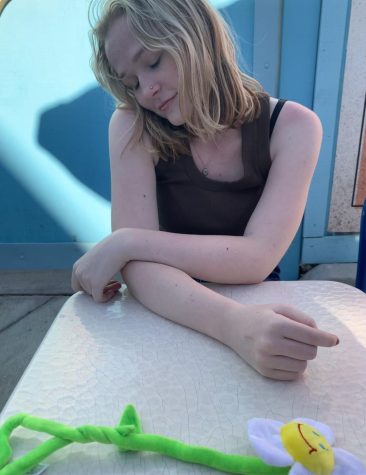 Flanagan says, "She's a good friend and always reminds me to do what I need to do."
Flanagan gets her propositions from her friends or stuff she sees in the news. Flanagan writes about lots of different topics.
"I like writing about current events and music, generally just stuff that actually matters to me. It's also a lot of fun to write about my friends," stated Flanagan
Flanagan has written lots of amazing and interesting stories. Her favorite story she has written was about her friend Savana.
She states, "She runs track and she broke a school record, so it was really cool to be able to give her the recognition she deserves." 
Senior Mikalya Maluyo joined The Lariat junior year right after COVID-19. She says Flanagan was the reason she joined because she wanted to have a class with her. 
Maluyo has a strong passion to write. She says, "I joined because I love writing and I thought writing for the newspaper would be interesting."  Maluyo is a very hard worker and motivated writer.
"
"Letting people read my work is both nerve-wracking and exciting as it allows for feedback."
— Mikayla Maluyo
Maluyo's most favored stories that she has written include, "'APOD: A Look Into Space,' 'AAPI Heritage Month,' and 'Serenity Lies in Studio Ghibli' are my favorite articles that I have written. Each one is informative and interesting to read, I think. Doing research for the articles was actually very intriguing to me and I loved learning about other people's cultures."
Maluyo has a very expansive mind with great ideas; she writes about what's big on the news or in school. Her favorite thing to write about are the Mustangs.
She states, "There are so many different people that go to our school and the opportunity to highlight even one of them is an incredible thing."
Mrs. Smith, the journalism teacher, was pleased to have them in her class. 
Smith says, "Both girls have always been very strong writers and their articles are well thought out and generally require very few edits. They have also both been willing to take any article that I have asked of them. They have been consistent in getting those last minute articles done when someone on staff asks us to cover something quickly."