Hurdling Over the Competition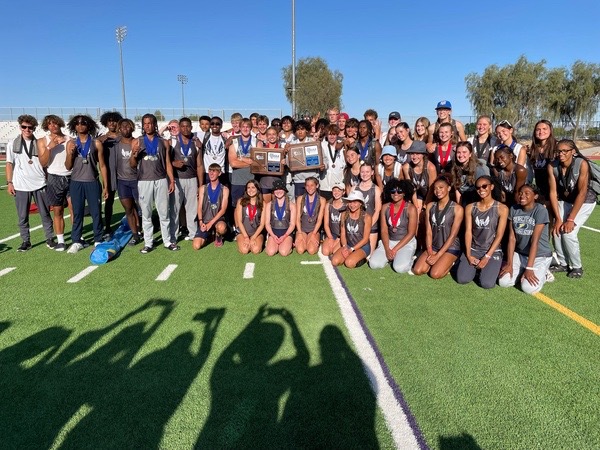 Track season is coming to an end, but one big competition still needs to be done; state championship. Last Tuesday, the 4A Regional Prelim took place at Desert Oasis High School. And this Saturday, both girls and boys took first for finals. They split up the Mountain Region and Desert Region. Four athletes per gender and per event from each team compete against each other. To be qualified for finals they need to be either the best runner of their heat or have the two next best times out of the competition.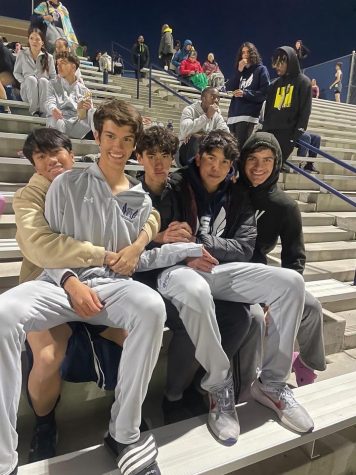 Shadow Ridge's hurdlers really stood out that day and almost all of them qualified for the 100/110m high hurdles race or the 300m low hurdles. 
Junior Alberto Escobedo took 8th for the 110m race. He has been doing track since freshman year, first at Legacy and now at Shadow. Escobedo chose to run hurdles because it seemed like the most interesting event of them all. It's a mix between track events and field events.
He tells, "My favorite thing about hurdles is the fundamentals of it; you can work to get better at them and it's not purely up to how long your legs are, if you're willing to work you will see results. My least favorite thing about hurdles is how it takes a toll on your hips and knees after a slight mistake."
Junior Blake Eecklor also qualified for the 100m race. Track and field has always been part of her life.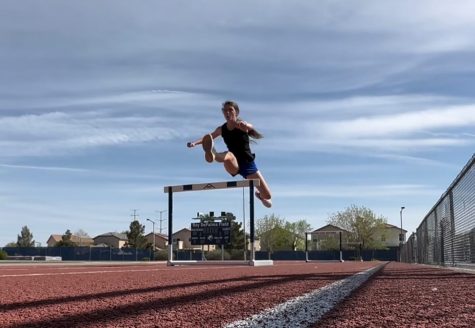 "I've been running track since 6th grade at Saville, but I stopped for 1 year in 9th grade. Last year was my first year on Shadow's track team, and I joined because I wanted to continue running and try out all the new events. I started running in the first place because my dad was a track athlete in high school and college, and I thought it would be a lot of fun," explains Eecklor. 
Freshman Courtney Howard also qualified for hurdles, but for the 300m race. She also plays soccer in a club and is a very strong athlete. 
She says, "I trained for regionals with a lot of form work and stamina, a typical day at track is a warm up then hurdle warmup then we normally go in with a workout including hurdles. Outside of track I do club soccer and it really helps staying in shape."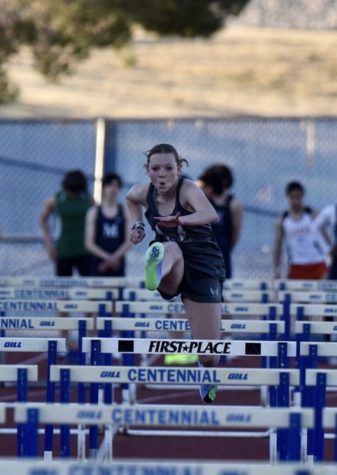 Hurdlers' workouts are very intense. They need to be good sprinters, and be able to run while jumping over hurdles. They also need to be able to switch legs as they jump, so they won't lose too much time during their race.
Escobedo explains a typical practice, "A typical track practice for me is the workout Coach Brown gives us but it's usually 3x300m 3x200m 3x100m 3x50m and 5 bleachers all at 80-90%. After practice I go to Titan athletes to continue to weight train and keep my body healthy for the next meet." 
Athletes often have a favorite race between the 100m and the 300m, both using very different strategies. 
"My favorite thing about hurdles is definitely the 100m high hurdle race. I love this race because it's based more on timing and rhythm than the other race, and I've seen a lot of improvement over the last 2 seasons. I would have to say my least favorite thing aside from falling would be the 300m low hurdle race because it's more of a running race than a hurdle technique based race," shares Eecklor. 
Being part of a team is always very meaningful for athletes, they share unique moments and track each other's progress. Shadow's track team is the biggest team at school. It's a very big family and students are very close to each other. 
Escobedo shares, "It means everything to me to be a part of the track team. Ever since my freshman year at Legacy, I've always considered my team my family and I love the competitive spirit."