The Golden Knights Playoff Run
The Stanley Cup Playoffs are already well into their second round and the Vegas Golden Knights are putting up a fight against the Edmonton Oilers. With every game the Knights odds to win the Stanley Cup rise. 
Ever since their Debut as the National Hockey Leagues 31st team , the Knights have proven themselves time and time again, making the playoffs 5 times in their 6 year history and were the Western Conference Champions their first year.  In the 2022-23 season, they finished 5th in the standing league-wide. 
In the first round of the playoff, the Knights beat wildcard team Winnipeg Jets in a 4-1 series. Players like the captain Mark Stone and star Jack Eichel lead in points. Round 2 versus the Oilers, which started May 3rd has been an entertaining series with the series currently tied 2-2. 
The National Hockey League superstar, golden boy, Rocket Richard and Hart Memorial trophy winner and Oilers Captain is the Golden Knights main competition, as he has been deemed by hockey fans, players and journalists, the greatest player currently playing. Along with assistant captain, Leon Draisaitl, who leads the Oilers in postseason points and goals. 
McDavid and Eichel have a long history though. Both drafted first and second respectively in the 2015 NHL draft. Due to this, they have been pitted against each other since the beginning of their careers. McDavid and Eichel don't feel this way though.
"I can see how people want to make that a story, but it's so long ago now, time kind of fades (things). He's a great player. Vegas and himself are off to a great start," says McDavid.
"Honestly I don't really look at it like (a rivalry). The draft is so long ago, and it's one or two days and you're past it," says Eichel.
Despite what they say, their series reunion has been making noise by fans and journalists.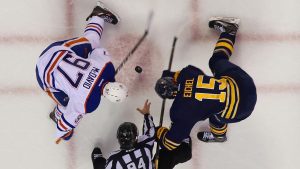 "The games are really fun and high energy especially when we are winning. The players really feed off of the crowd so we're always trying to hype them up," says junior Cian Monaghan, who has season tickets to the Knights games. 
The series is far from over, and the next game is Friday May 12th, at T-Mobile arena where the Knights are looking to lead the series. Currently, The Knights have the best odds to win the Stanley Cup with the odds are +800.