Pieces of History
Looking back at the memories made throughout the years is so amazing and thanks to Mrs. Mason and her staff, the yearbook makes that possible. After working hard all year, the book is complete for all students and staff to enjoy.
"This year's book theme is Pieces of History," Mrs. Mason states. "It is about how high school is collecting those pieces that will make our history and the history students will leave behind for the next class."
Every year the theme of the yearbook has great representation of the school year and everything that goes on around the Ridge. It is not always easy to find the topic but going through lots of ideas and rough drafts, it always comes together.
Did you purchase a yearbook this year?
Sorry, there was an error loading this poll.
Mason says, "We had a theme which was Making History but when our photographer, Taya Etzel, showed me a concept photo she had done which included puzzle pieces, we decided to go with that visual concept. We combined the two ideas together."
Figuring out one main idea and then branching out from it is the main way the theme is created each year. All of the yearbook staff work hard to carry out the visual through the book. Getting to design pages and being a part of the process is huge for publications students.
"I love decorating the spreads how I want to and getting complete control over them," stated sophomore Maddie May. "Yearbook is such a fun class because we get the chance to help bring everyone together. It is so fun to go out and interview students to get their views on certain topics." 
By the end of the year, many students are featured in the pages getting to reminisce about their year. The yearbook is a place where many students get to have their say and put their mark at the school.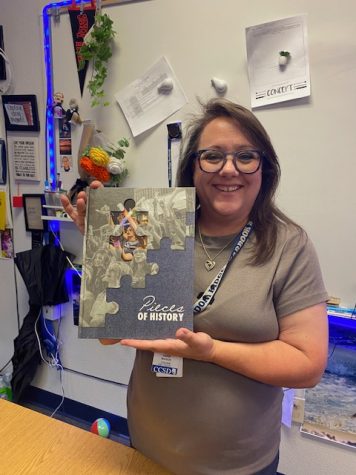 May also says, "One of the most challenging things is making sure we get as many students in the book as we can. As this may be a challenge, I feel the yearbook staff does a really good job in the coverage we get. It's also fun to look back at everyone's hard work once the book is done."
Trying to incorporate all the clubs, sports, and activities in the book with all students can be very difficult. The yearbook staff work diligently and go out to get interviews from everyone. There are also many other difficulties faced.
Mason says, "I would say this year we are still recovering from Covid-19 so there were a lot of newer and inexperienced students, but by some miracle they pulled it off!"
The yearbook was turned in on the due date and looks amazing! It is finished and already passed out to students. It has gotten a lot of love and many are happy to see all the pages and sign for their friends.