A Sensational Swimmer: Brea Nenneman
Brea Nenneman, a senior at Shadow Ridge, is graduating this year and has definitely left her mark. Nenneman has swam for Shadow for four years now, and is the girl's swim captain alongside the boy's captain, senior, Ethan Ludwig. She has swam competitively for the North Las Vegas Avengers Swim Club for 7 years and it shows. 
Nenneman is a distance swimmer, she often swims the 500 and the 200 freestyle events at meets. Her best time for the 500 free is 5:54 while her 200 free is 2:13.64 which is minutes less than the regional qualifying time. She explains that she has always enjoyed distance and because of that she has worked on it for years to get where she is now.
Nenneman stated that she won't be swimming competitively in college because even though she loves it she doesn't want it to be the base of her whole life as it gets more competitive as she goes on. She describes being on the Shadow Ridge team as beneficial. It has helped her come out of her shell and make connections.
"The Shadow Ridge swim team is amazing. Everyone is so close, and I would not give up my time with them for anything," Nenneman explains.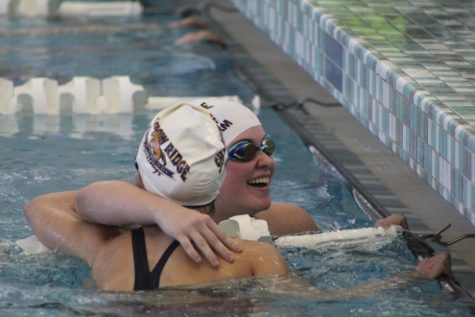 "Swim meets are a lot of fun, everyone is so supportive, and Shadow Ridge is always the loudest team there cheering on our teammates."
Ludwig explains that if he had to describe Nenneman he would say that she is kind, motivated, team-spirited, and fun. He states that she is one the "top dog" swimmers. For all the years that he has known her she has always been one of the top 5 swimmers on the team. 
"I've known Brea for a while now and one of my most favorite memories with her was when she pushed me to swim in her lane and keep up with her," Ludwig stated.
"I was intimidated by her speed and made up excuses about why I couldn't, but she was persistent. Finally, toward the end of the season I swam in her lane and it was hard to keep up with her. I worked my butt off and she motivated me to get faster."
Junior Elaina Wasden says that Nenneman is a dedicated, passionate swimmer and a fabulous leader.
She explains that one of her favorite things about Nenneman is that she accepts everyone automatically and makes an effort to learn everyone's names. Wasden states that her favorite memory is when Nenneman stayed after practice to help her improve on her flip turns and strokes when she didn't have to.
"As team captain, she has encouraged and led the girls team to victory numerous times while encouraging the boys to do just as good," Ludwig explains. "Overall, Brea is a great swimmer, team captain, and student. Shadow Ridge swim was lucky to have her on our team for so long."