Shadow's Swim: Spring Meet of Champions
Just a few weeks ago the Shadow Ridge Swim Team made a trip to Walnut, CA for the Spring Meet of Champions. On April 14, 2023 Shadow's varsity team swam, and those who made it to the finals competed on April 15, 2023 along with junior varsity. 86 teams and 1860 swimmers in all competed at the Meet of Champions. The Shadow Ridge swimmers who attended the meet included seniors Brea Nenneman, Alessio Lucer, and Sophia Richarson, juniors Novalee Marlow, Conner Custer, Elaina Wasden, Ryder Nakamura, Sofia Perez, and Ellana Hollingshead, sophomores Isis Gwin, Jonné Thompson, Lila Brough, Dylan Hackman, and Kendra Chapman, freshmen Maxwell Custer, Madison Arner and James Earhart. The swimmers describe it as an amazing experience. 
Sophomore Isis Gwin states that she was so excited to go to the California meet. She originally thought it was going to be an awesome and super fun experience, and it totally lived up to her expectations. 
"The trip was so fun and I would a hundred percent go again next year if given the chance," Gwin stated. "It was great team bonding time and experiences will never be forgotten. I just hope more people can come next year."
Novalee Marlow, a junior at Shadow Ridge, says that she was really excited to get the chance to swim in the new pool.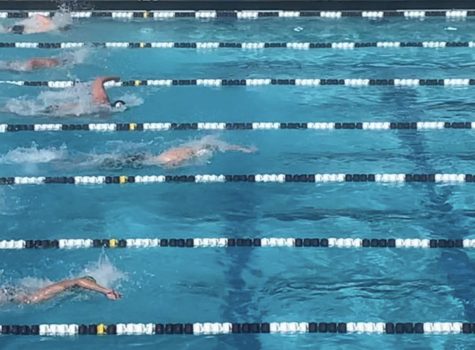 She states the pools she had been to beforehand didn't even compare to the Mt. Sac pool which had been recently finished. 
"Our team did extremely well with points and drops, especially us being one of the smallest teams," Novalee explains. "We came in knowing what we had to do and we accomplished it. I feel I did well with managing my times that I've had. Sixteen swimmers came from Shadow Ridge and overall we raced against 1860 swimmers."
Sophomore Kendra Chapman says a very similar thing as Gwin and Marlow.
She states that she was beyond excited to go, it was going to be a great opportunity and it was her very first out of state meet. Chapman states that the team did incredible, and that many swimmers got personal bests including herself.
"…everyone was very energetic and prepared for the meet, even if it ended up being 9 hours," Chapman explains. "Only 17 of us ended up attending, we were the smallest team but we definitely didn't sound like it, we were the loudest and proudest team there!"